Introducing Stripe payments integration to ANNA
28 June, 2022 · 7 min read
We're excited to introduce another way for ANNA customers to get paid. ANNA's new integration with Stripe allows customers to pay you quickly and easily through a credit card form on your website. Even better, ANNA has simplified the Stripe onboarding process so you can get set up in no time.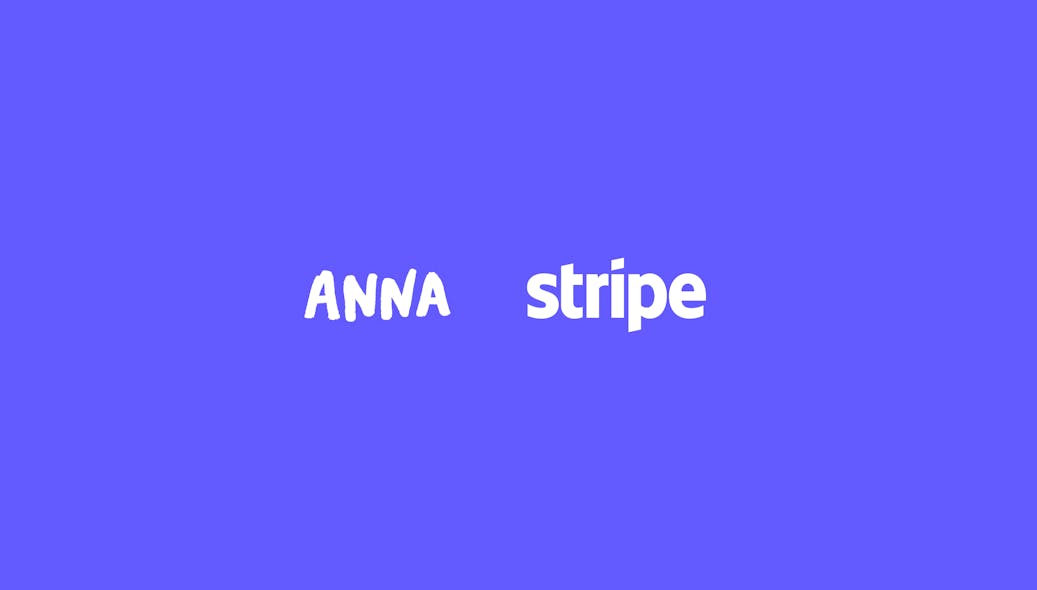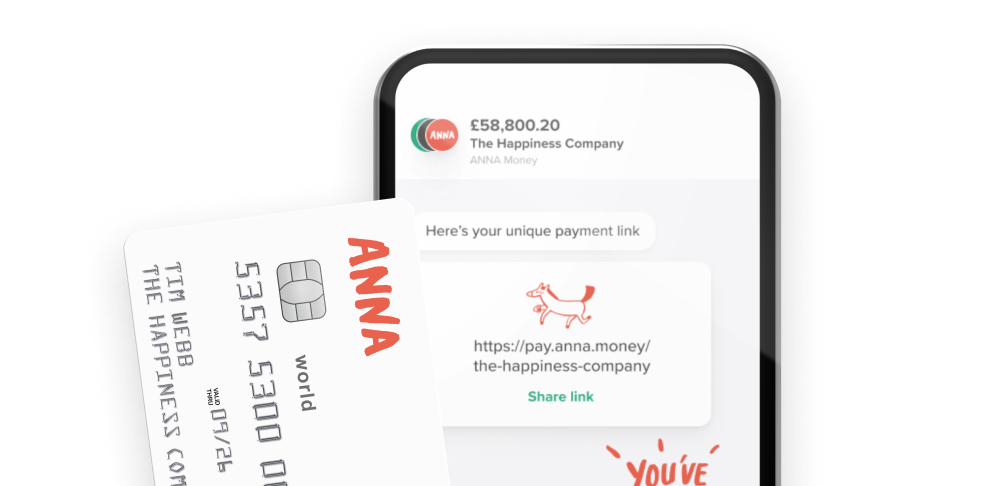 Open a business account with ANNA and get your taxes sorted
With ANNA you get a debit card, automated bookkeeping, a personal payment link, 1% cashback and 24/7 customer support
What is Stripe?
Stripe provides online checkout solutions for online businesses. They have all the backend systems necessary to allow website owners to accept online payments. Stripe offers opportunities for integrations, and we're happy to use it to make ANNA customers' lives a little bit smoother.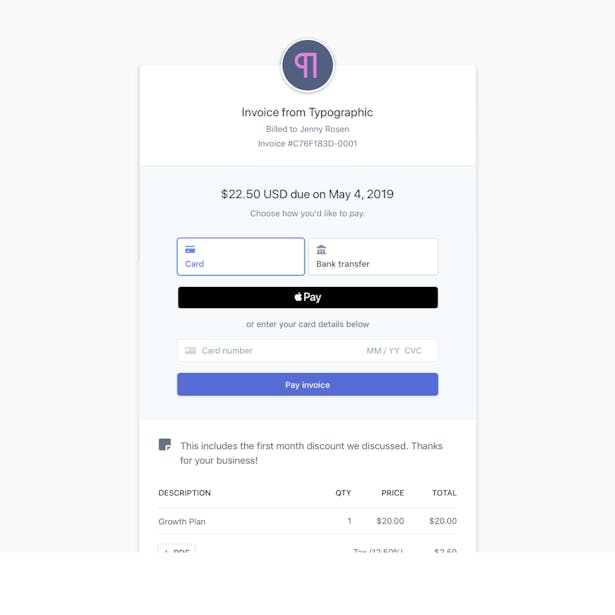 An easier setup for ANNA customers
Thanks to our integration with Stripe, setup for ANNA customers is really simple. Since you already passed identity and security checks when you signed up for ANNA, we can pass those basic details about your business on to Stripe (with your permission). We transfer all the necessary information (your legal name, your business name, company number and legal address) to Stripe, then connect your ANNA business account to your new Stripe account. After that, you'll have everything you need to put the checkout form on your website and accept payments straight into your ANNA business account.
The Stripe integration also works for offline shops wanting to use contactless payment. Plus it will appear as a payment option when your customers use your payment link or scan the QR code on your invoices. Print out the QR codes, stick it on your cash register or cafe menu and let your customers pay in a way they prefer.
How to set up ANNA with Stripe
You can set up your Stripe account from the "Get paid" menu in ANNA Money app:
Type "Get paid now" in chat or choose this option from the Thunderbolt menu
Choose "Use payment link"
Tap "Edit and Share" on the payment link card
Find "Stripe" at the bottom and get started with your Stripe account setup
Once you're done with account setup, Stripe will give you the information you need to install the checkout form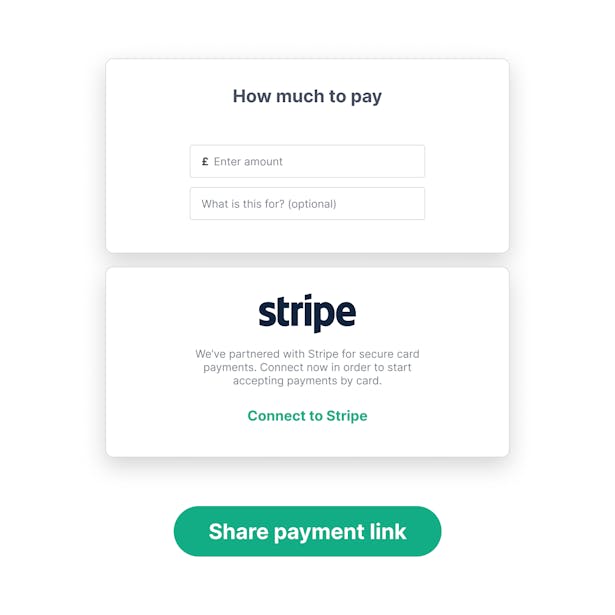 ANNA Business Tools users who don't have an ANNA business account can set up Stripe from the Invoice Generator section.
How much does Stripe charge?
There is the standard Stripe per-transaction commission of 1.4% + 20p for UK cards. See Stripe pricing for more details
ANNA doesn't charge any additional fees for using Stripe with your ANNA account.
How to add Stripe checkout to your website?
After you've got things set up, the Stripe checkout option will be available to your customers on your ANNA payment link. You also get full access to the Stripe Checkout product, and this lets you set up a form on your own website. Stripe offers extensive guidelines on how to do this. Check them out!
What is Stripe payment?
Payments through Stripe are no different from any other payment – they just go through a specific platform provider (Stripe), which means you have an additional agreement with them about how you use their platform – see below for some restrictions Stripe has for certain businesses.
Is Stripe safe?
Absolutely. It's safe both for you and your customers. Check out Stripe's documentation on extensive security measures.
How can I add Stripe to Shopify?
If you have a Shopify store, you can use Shopify Payments instead of Stripe. It's a system Shopify built using Stripe to simplify accepting payments online. In countries where Shopify Payments is available (such as the UK) Shopify has removed the ability to integrate Shopify accounts with Stripe because it's not necessary. Want to know more? See Shopify's manual to Shopify Payments
You can also use a Shopify integration for ANNA: it allows you to import transaction data from your Shopify store into ANNA, and get your tax data calculated and displayed in ANNA.
How to connect Stripe to Woocommerce?
Stripe offers a plugin you can install to your WooCommerce store so you can accept online payments. To install the plugin, check out the setup instructions on WooCommerce website.
Does Stripe accept CBD payments?
Unfortunately, not. Even though CBD businesses are legal in the UK, they are on Stripe's restricted activities list, so they will block accounts associated with CBD-related transactions. However, since ANNA does open business accounts for CBD businesses based in the UK, these companies can accept payments using their own ANNA payment links. In these cases, there's no need to get a Stripe account.
How long does it take to receive Stripe payments?
The current payout time from your Stripe account to your UK business account is about 3 business days. Check Stripe's payout documentation for more details on payouts.
Open a business account in minutes
Take the load off with ANNA, the business current account that sorts your invoices and expenses.
Enter your mobile number
Get a business account and a debit card that miaows
We create, send and chase up your invoices
We snap and sort your business expenses
Never miss a deadline, with handy tax reminders