Your ANNA Payment Link just got even better
11 January, 2021 · 5 min read
We are constantly looking to improve our features and after chatting to our clients, we've made some additions to the Payment Link we think you'll like.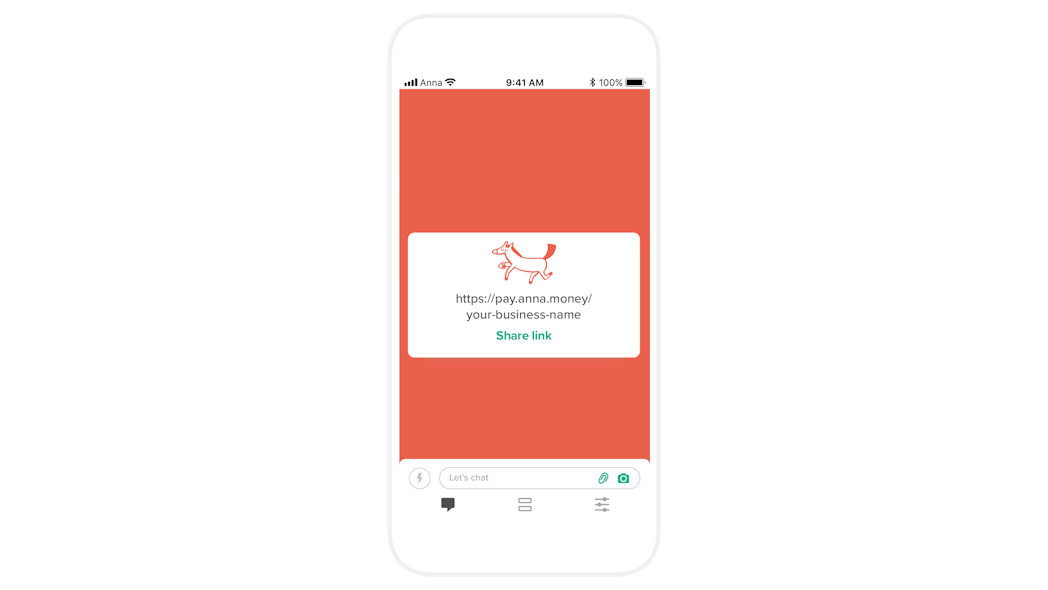 First of all, let us show a video about the payment link that shows how easy it is to set it up and start accepting payments from your customers, without even sending them your banking details:
Easy. Now, let's look at the specific updates.
In-app preview
You can now preview your payment page in the app without the need to open your mobile browser. Just tap on the card in the chat, and you'll see your payment page preview: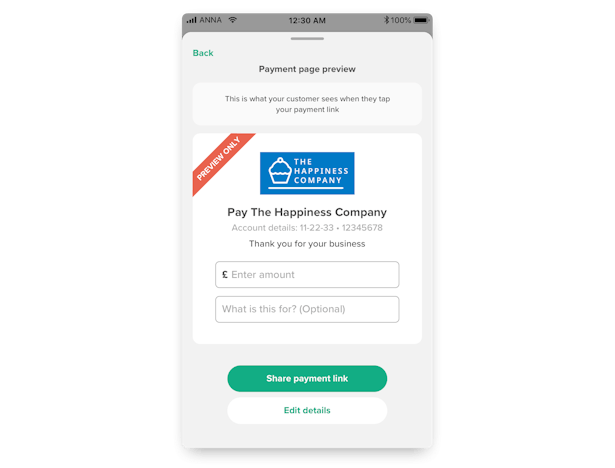 Your personal payment page preview in the ANNA app
From there you can share it and send it to your customers for them to pay you, or customise the looks of it: add or change the logo and your company's description to add focus on your company.
It's very easy to do – if you've already got a logo on your invoices, it's been added to your payment link automatically. And when you select 'Get paid now' in ANNA chat, you can add a description straight away.
Specified amount
Now it's easy to have a payment page for a specific amount and a reference – your customers won't need to type those in!
After selecting 'Get paid' in the chat you can tap 'Specify amount' and we'll ask you how much money you would like to set for this link and if you'd like to add what this payment (or several future payments) will be for.
Every link with a pre-set amount and reference will have its own address that stays there forever – you can create as many as you like, put it out there on the Internet and be sure that people will pay you the amount that you've specified. Well, there is a technical limit to that number, but it's unreasonably high, so we don't think anyone hits it any time soon.
Multiple link management
This one is linked to the previous point directly. Every specific amount and reference will have its own address so that you can add it to your website and never worry that it gets unexpectedly changed, disappears or anything similar happens.
To help you stay in control of multiple payment links we added a list of them in the chat. Now, whenever you press 'Get paid', you will see that you have [X] more links. If you have more than one, of course.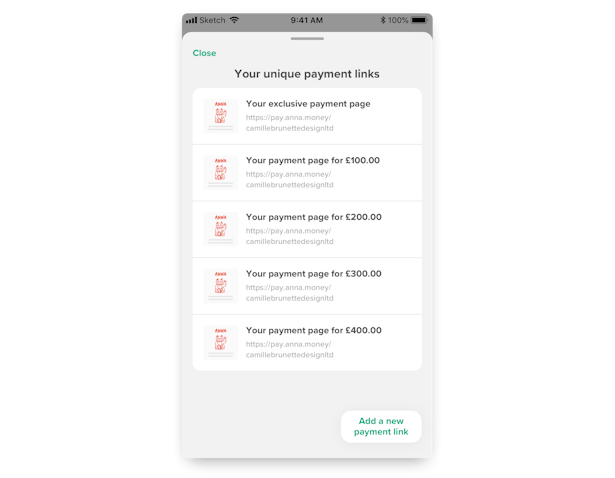 The list of your active payment links
From that list you can create a new link, or long-tap to delete an existing one. The basic link (the one without a specific amount) cannot be deleted, so there's no chance to break it.
We're excited by how many ANNA customers have been using our new feature. If you missed it, you can read the release blog post and the use cases update. Recently, we spoke to one of our customers, Karen Stefan, about how he uses payment links for his business. Kerrina New, owner of Sacred Space Yoga Studio, said that with the payment link "we delivered what she needed before she had to think about it" – and that is the best praise we could possibly hope for.
Open a business account in minutes
Take the load off with ANNA, the business current account that sorts your invoices and expenses.
Enter your mobile number
Get a business account and a debit card that miaows
We create, send and chase up your invoices
We snap and sort your business expenses
Never miss a deadline, with handy tax reminders