One place for all your business accounting
Save time and money on your business accounting with ANNA +Taxes
Try for free
Learn more
What you get with ANNA +Taxes
All your taxes covered: Payroll, VAT filing and Corporation Tax
Including everything you need to register a new business and get a confirmation statement. So you get started knowing you've ticked all HMRC's boxes
Try for free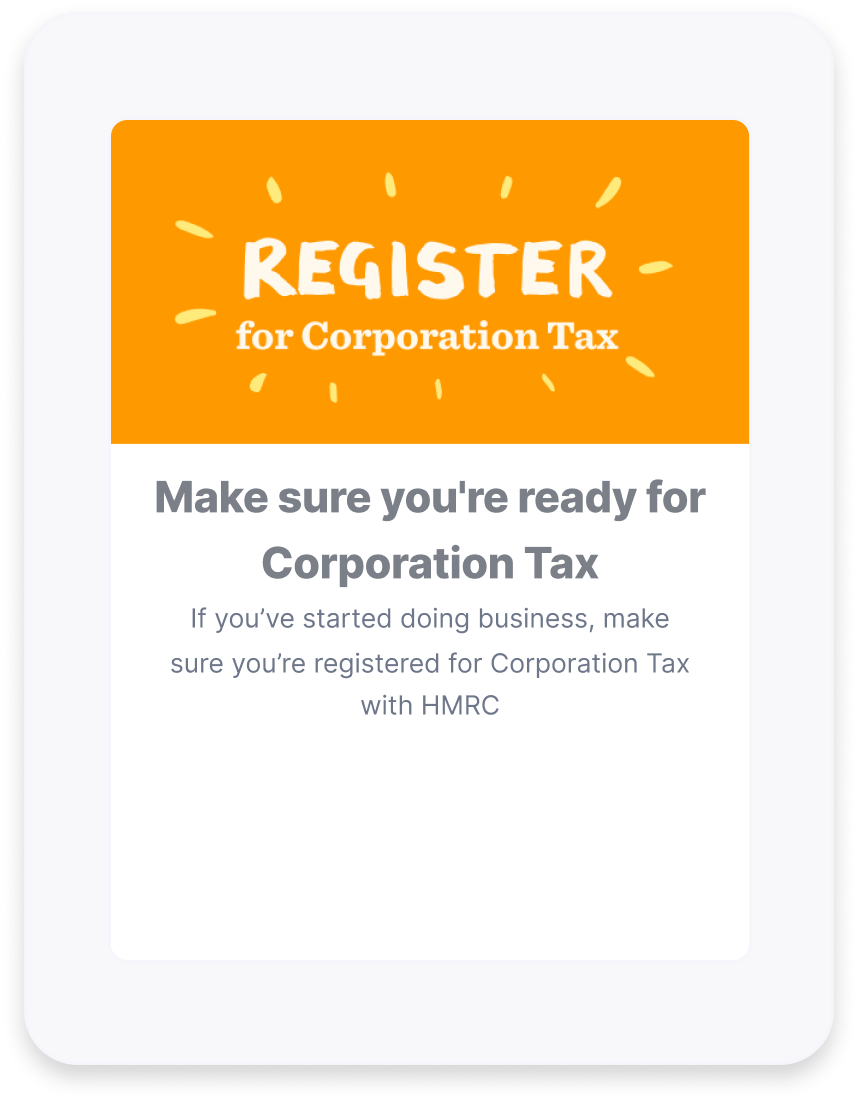 Register for VAT, Payroll and Corporation Tax according to your business needs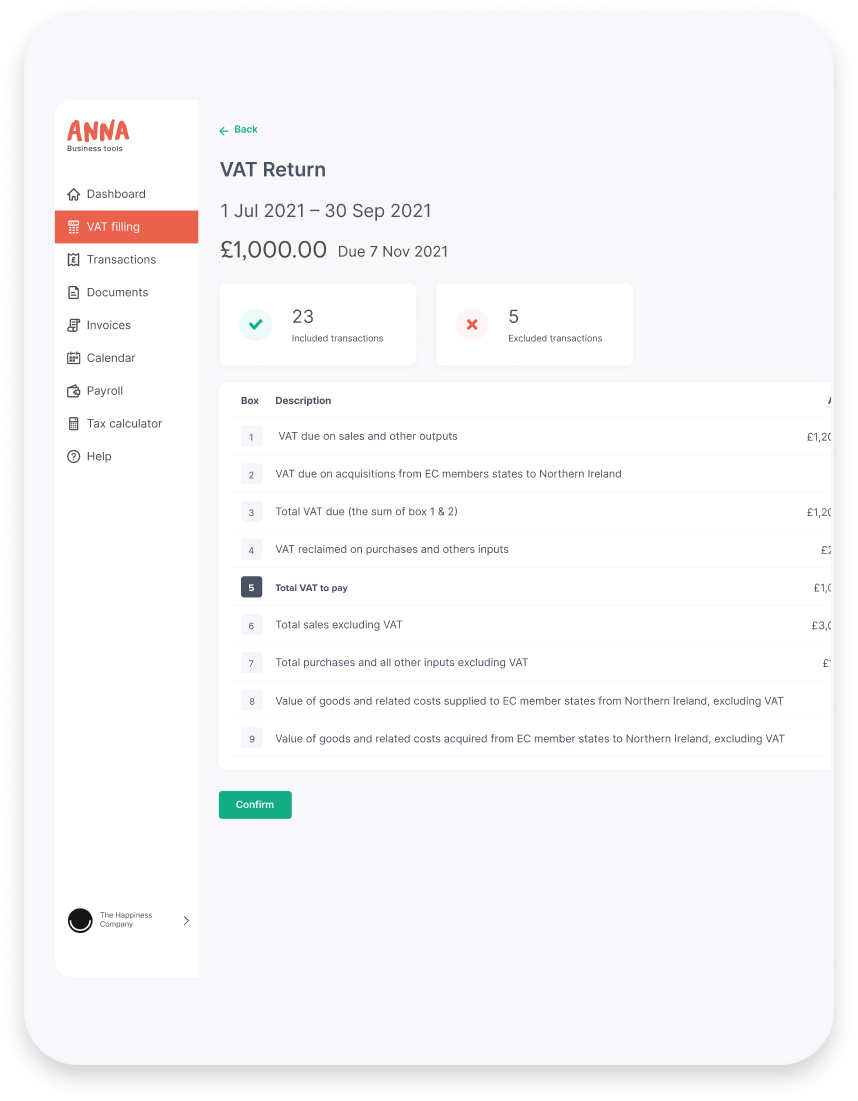 Auto calculate and file VAT, Corporation Tax and PAYE with ease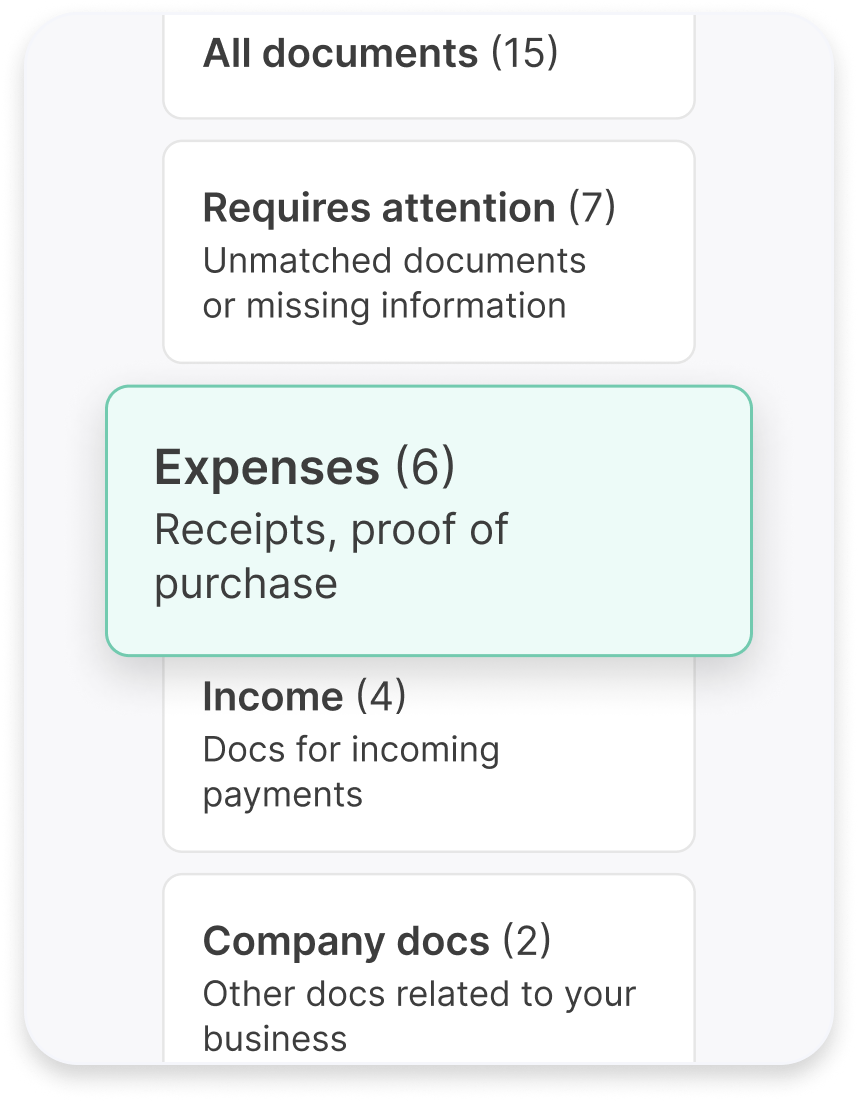 Claim more expenses and lower your tax bills with automatic expense sorting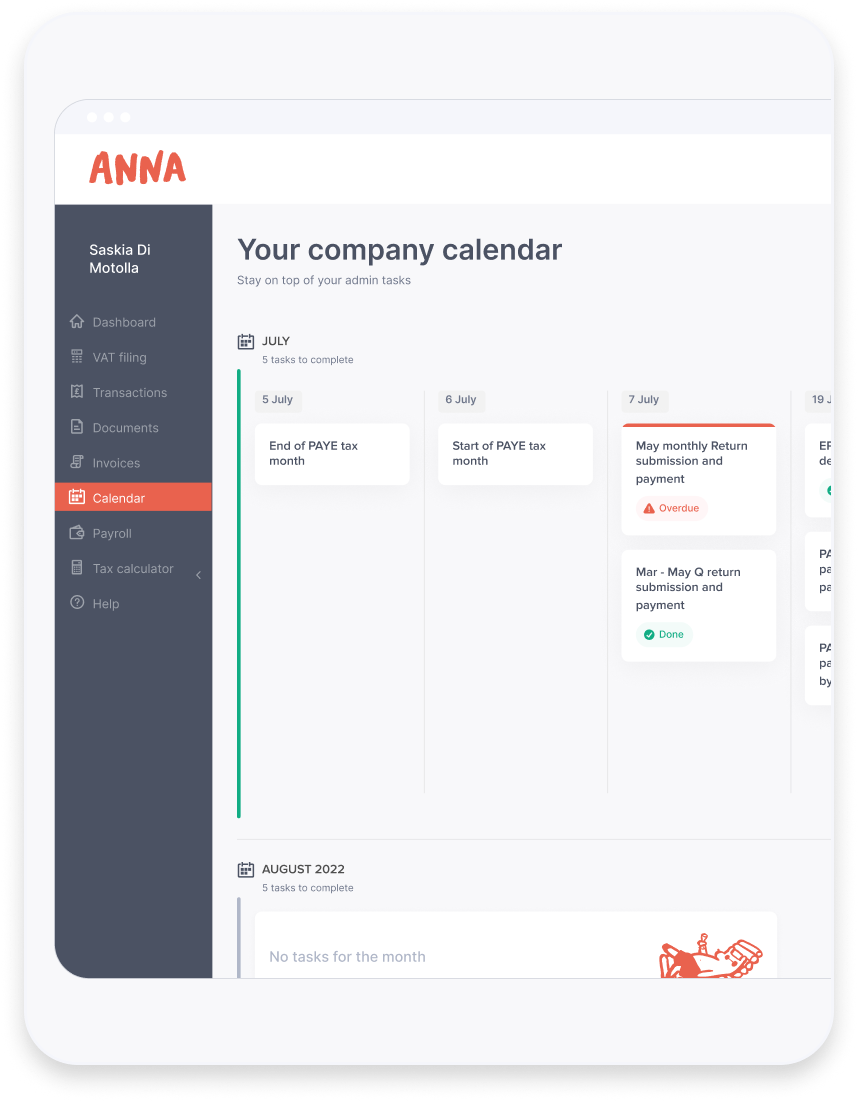 Personalised tax calendar so you don't miss deadlines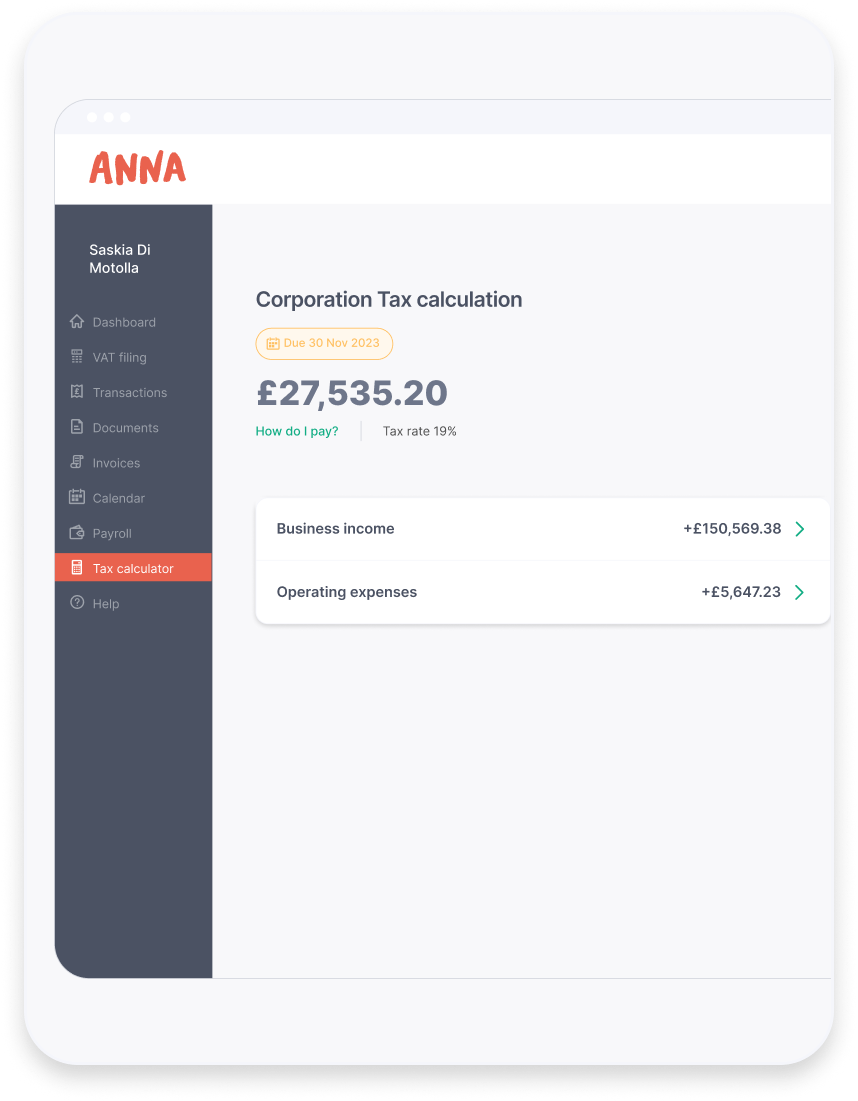 File taxes from ANNA if you're in your first year of trading and keep your filing records in one place

Smart receipt scanner
Snap a receipt of a business purchase and it's automatically matched to a transaction in your business account. Then it's categorised and used to calculate your taxes
Reserve money for taxes
With Pots, every time your business is paid a portion of the money is automatically put aside to cover upcoming tax payments

Your tax questions answered by our AI Tax Bot
Got a tax question? Ask Tax Terrapin, ANNA's ChatGPT-powered taxbot. Not only can it answer your questions, it links to the relevant HMRC documentation
VAT return, Payroll and Corporation Tax
Help with your VAT and more
Get registered for VAT and have it calculated and filed through ANNA. Personalised reminders mean you never miss a deadline, and VAT Pots mean money is automatically put aside for your VAT Return
More about VAT with ANNA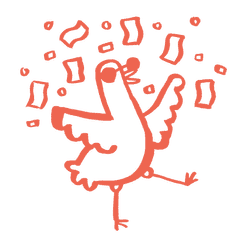 The right way to pay yourself
ANNA +Taxes calculates payroll for your limited company so you don't have to hire an accountant or do it yourself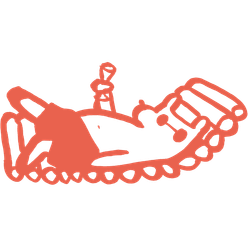 Stay on top of your books
Bookkeeping Score gives you quick, simple tasks to keep your books tidy. Keep aiming for that perfect score!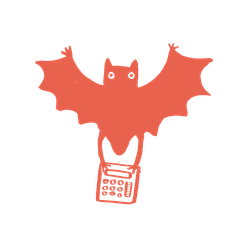 Know your Corporate Tax
ANNA +Taxes will help you register your company for Corporation Tax, calculate how much you owe and make sure you meet the deadlines
Bookkeeping score
Save money on your taxes with Bookkeeping Score
Business Score lets you know how tidy your books are and gives you simple tasks (like making sure expenses are correctly categorised) to make your business as tax efficient as possible. The higher your score – the more tax you could be saving!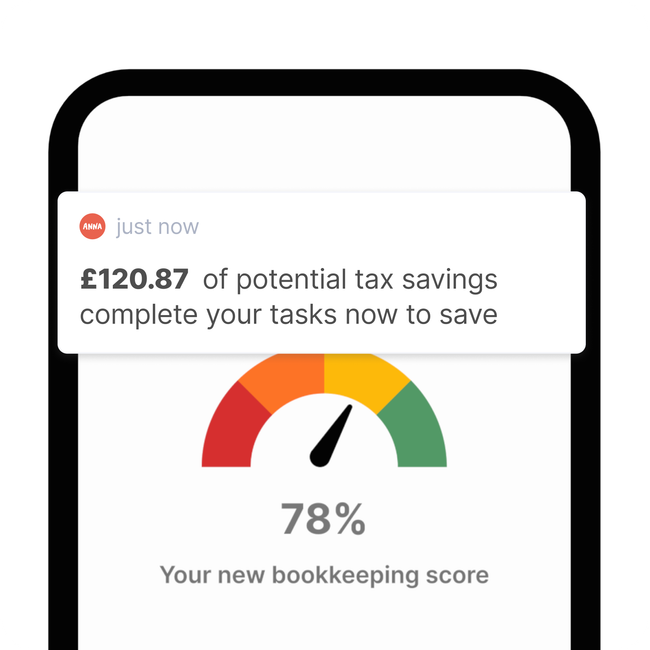 Tax year dates
Don't miss your tax deadlines
No need to put the important dates into your calendar or hope for a nudge from an accountant – ANNA will remind you ahead of time and help you get prepared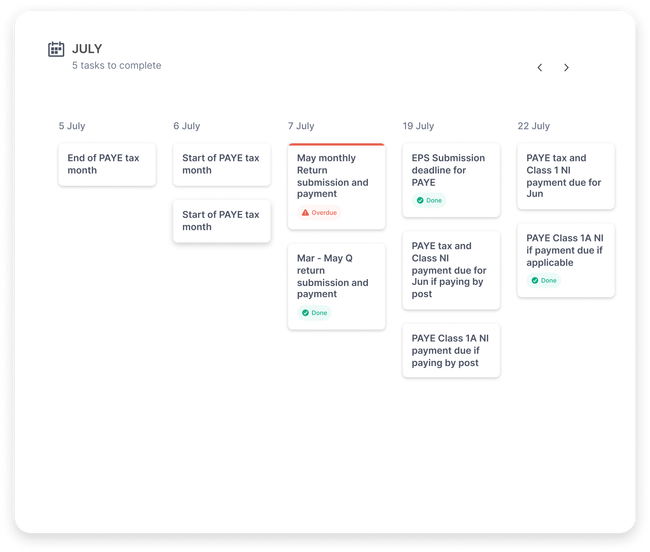 Accept payments
Get paid easily
With ANNA +Taxes you get a professional invoice generator to create and send invoices tailored to your business. You also get a unique payment link so clients can pay you online, using QR codes or through the Stripe payment platform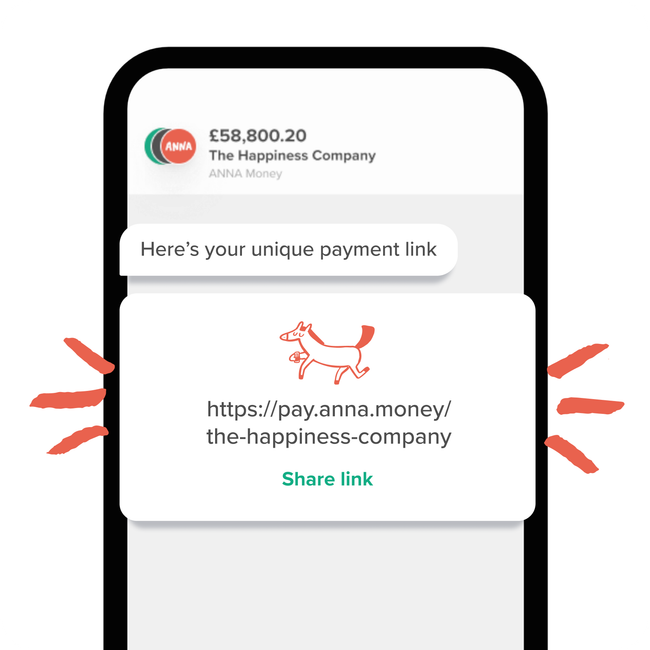 How much is +Taxes?
Cover all of your taxes with a single subscription
For the first 3 months ANNA +Taxes is just £3 per month, so you have time to try it properly before moving onto the full-price payment plan. It's then £24 a month +VAT after that
See all business tools packages
Auto-calculate VAT, Corporation Tax and PAYE with ease
Filing for Corporation Tax and Annual Accounts – if you're in your first year of trading
Automated expense sorting and Pots transfers help you put tax money aside
Tools to minimise taxes and boost expense claims
Personalised tax calendar – never miss a deadline again
Automated VAT Return calculations and direct filing with HMRC
Unlimited XLS VAT filing
Exportable Profit/Loss, balance sheet, income statement
Payroll for 1 person
Bookkeeping Score – helps you keep your books tidy
Chat with our experts 24/7 anytime
Invoicing with card payments accepted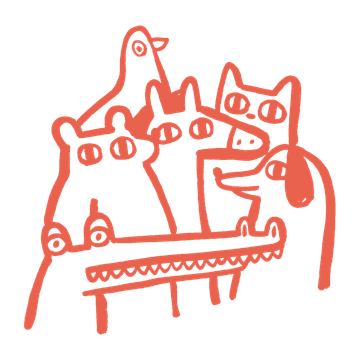 Sign up for ANNA +Taxes
Get full tax support
Ready to sign up for ANNA +Taxes?We'll need some basic information about your business and tax records Sign up takes about 10 minutes, or even less if you already have an ANNA business account
Try for free