ANNA is now part of the Confirmation of Payee scheme
12 August, 2022 · 3 min read
From now on ANNA will be part of the Confirmation of Payee scheme. That means that when your customers want to pay you, they can check they're transferring their money to the right account.
This is important for two reasons: your customers get peace of mind, and your business looks more professional.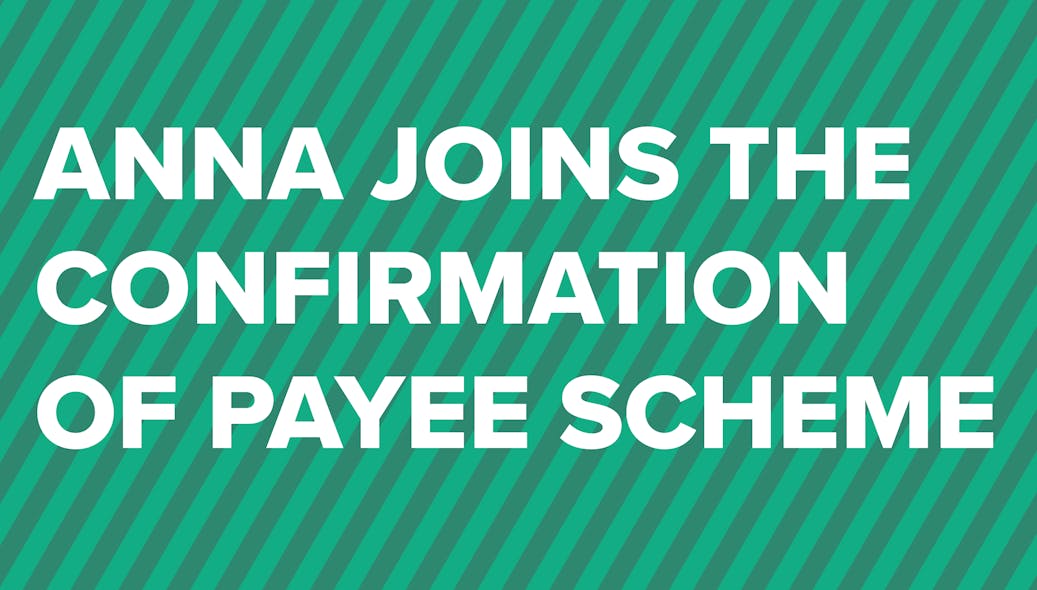 What is Confirmation of Payee?
Confirmation of Payee (CoP) is a security check introduced by Pay.UK to reassure anyone banking online that they're actually sending money to the right person or business.
The idea behind CoP is to stop people accidentally sending payments to the wrong account and also to reduce bank transfer fraud.
CoP checks the details for Faster Payments. The checks take place whenever a new payee is set up or an existing one is amended – these are the processes where there's a higher risk of fraud or mistakes creeping in. They don't currently check BACS payments, including Direct Debits.
Check our previous article on CoP for more details.
How does it work?
With Confirmation of Payee, when someone tries to make an online payment to a new payee, there's an extra check to make sure the account name entered matches the account details (sort code and account number) and the account type (personal or business). In the case of ANNA, all our customer's accounts are classified as business accounts.
There are four possible outcomes: 
Yes, exact match – the details match and you can proceed with the payment.
Partial or close match – some of the details are incorrect so look for spelling mistakes.
Wrong account type – the details match, but the wrong account type has been entered.
No match – the details don't match so cancel the payment until you've made further checks.
No name check – it has not been possible to check the name e.g. because the receiving bank doesn't offer CoP.
Until recently, people wanting to pay ANNA customers would get "No name check" as ANNA wasn't part of the scheme. We realised it was offputting for people to get this message and it made some people worry unnecessarily that paying into an ANNA account wasn't entirely safe. That's why we're so pleased that ANNA is now part of the scheme.
All the banks who support Confirmation of Payee have now added ANNA to their systems.
Open a business account in minutes
Take the load off with ANNA, the business current account that sorts your invoices and expenses.
Enter your mobile number
Get a business account and a debit card that miaows
We create, send and chase up your invoices
We snap and sort your business expenses
Never miss a deadline, with handy tax reminders