Business vs personal account: what's best for me?
22 January, 2020 · 4 min read
When you're starting up a business, it might be tempting not to bother with a separate business bank account. It's one more thing to set up, and you just want to get on and start trading right? But splitting your business and personal finances can save you a whole lot of time and hassle in the long run - not to mention a few quid off your tax bill. Here's a few reasons why.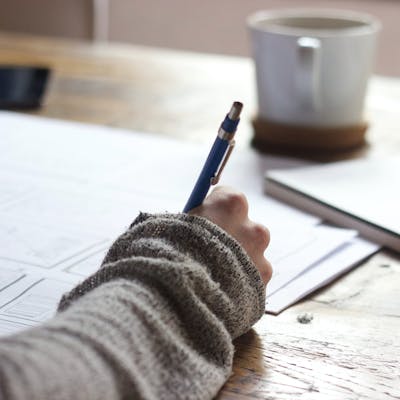 What's a business account?
It's an account you open in your business name to handle your income and outgoing payments. In many ways it's similar to a personal account: you can move money in and out, set up direct debits and make payments with a debit card. A business account simply allows you to separate your own finances from your business.
Do I need a business bank account?
If you're setting up as a limited company registered at Companies House, even if it's just you, then yes you're legally required to have a business account. That's because your business is considered a separate legal entity, and as such its finances must be kept completely separate from your personal bank account.
If you're self employed or a sole trader, having a business account isn't a requirement. but it's still a good idea - we'll go into why in a bit. When you're in a hurry to get on and start trading, it might seem simpler to use your personal account to run a few business transactions through - but once sales start picking up, things are quickly going to start getting complicated. Given how easy it is to open a business account online these days - ANNA takes less than 10 minutes - it's a smart move to get one at the outset, so you're all set up for when your business takes off. Because that's the goal, right?
5 benefits of having a separate business account
1. It's easier to keep track of business expenses
When you're running all your business and personal expenses through the same account, it can be a headache trying to remember which ones were work-related when you come to do your tax return. Some are obvious, some less so - was that Sainsbury's food receipt for a business or personal lunch? When every business purchase is made through a separate account, your expenses are clear cut. You can claim for every one and reduce your tax bill as much as possible.
Likewise, there's no risk of confusing personal income like a cash gift, or money from a car sale, with business income. Given that that's money that's already been taxed, you could end up paying tax twice - and no-one wants to do that, do they?
2. It simplifies your tax return
When you come to file your self assessment at the end of the year, your accounts need to be checked against your bank statements in a process called reconciliation. Your entire records of business income and expenses have to be cross-referenced, to make sure everything matches up.
It goes without saying, this is infinitely easier with a separate business account. Your ending account balance minus your starting balance simply equals your income minus your expenses for the tax year. If they don't match up, it should be relatively easy to find what's been missed. Not so if your balance includes numerous personal and business transactions, which then need to be untangled. At best you'll end up with one very grumpy accountant. At worst, you could face awkward questions from HMRC if you're struggling to explain what's on your statements.
3. It's easier to budget
It might sound obvious, but having a business account means you can see at a glance how well your business is doing - and start sending those invoices out if you need to. Keeping your business income separate also means there's much less chance of you accidentally using the money for personal expenses, so you don't risk running into cashflow issues.
4. It looks professional
Many clients prefer to make payments to a business account, rather than a personal one. It looks more professional and might mean you get taken more seriously as a 'real' business. That might not seem important at the moment, but it could pay dividends in the future as your small business grows.
It's also worth checking the terms and conditions of your personal account, as many banks don't allow them to be used for business transactions. You're unlikely to get pulled up on it - but if you're found out, your bank could insist on you opening a separate account, with potential disruption to your business.
5. Take advantage of free admin tools
Many business accounts now come with a free app to help you keep on top of your financial admin, like invoices and expenses. These can be a brilliant time saver once you get into the habit of using them, as all your financial data is kept up to date in one place. Instead of spreadsheets of invoices and bundles of receipts stuffed in shoeboxes, all needing to be sorted out at some point, you can manage your admin from your phone. For example, with ANNA you get prompted by the app to photograph your receipt every time you make a purchase with your ANNA debit card, so you never lose a receipt. You can also create invoices and allow ANNA to automatically chase them up when they become overdue. It's like a pocket virtual assistant looking after your money, 24/7 - and it never takes a day off sick.
Get a business current account in minutes
Take the load off in 2020 with ANNA, the business account that does your financial admin.
Enter your mobile number
Get a business current account in minutes
Direct debits and team debit cards
We create, send and automatically chase your invoices
We snap and sort your business expenses