Meet the Furlancers: Young people starting businesses during lockdown
27 May, 2020 · 4 min read
Lockdown has changed Britain in ways we're still trying to understand. It's changed the way we socialise, the way we shop and the way we work. For many of us, our daily commutes have been replaced by endless Zoom meetings ("ANDY, YOU'RE ON MUTE!") and carrying a laptop around the house, trying to find the spot with the best wi-fi.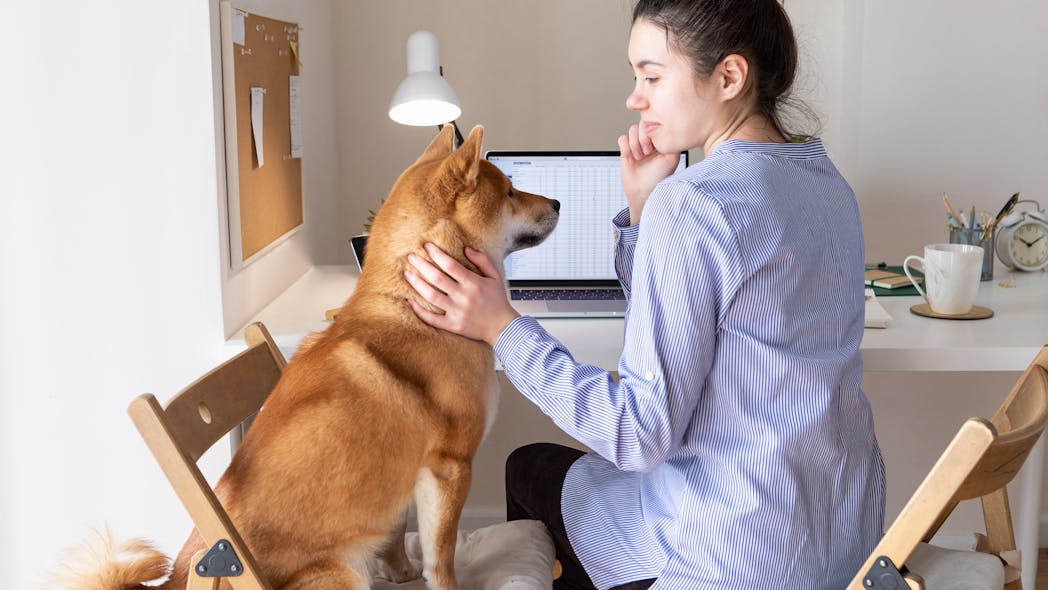 And for lots of people, the change in routine has inspired them to rethink their work lives. Do they want to be doing a 9–5 forever? Or is it time to make a change? Do they want something that means more to them than a line on their CV?
Introducing the Furlancer
This is particularly true for many of those who've been furloughed. They suddenly find themselves with time on their hands and an opportunity to plan for the future. And lots of them are seizing the day; starting new businesses, turning hobbies into professions, and developing new side-hustles. We're calling these people FURLANCERS and over the next few months we're going to be seeing much more of them.
(Please note: The word 'Furlancer' is a portmanteau word fusing together furlough and freelancer. It's not a cross between furries and lancers – although ANNA has nothing against people who dress as squirrels or cavalry regiments)
We did a YouGov survey to find out more
Lockdown has been a busy period for ANNA, and our new customer numbers have risen sharply in recent weeks – to 50% more than usual. So we started asking why this was happening. And one thing we noticed was that many of the new accounts were young people whose businesses were started in the last month – sometimes in the last few days.
To look at this in more detail, we teamed up with YouGov to do a poll of 2,069 people in the UK. This is what we found. 
Young people in lockdown want to make changes
A massive 26% of young people (18–34) have been furloughed by their employer. Add to this all the others working at home, on temporary leave or even laid off – and you have a lot of people at home wondering what to do with their future careers.
There's a burning entrepreneurial ambition within many young people (they're more than twice as likely as someone over 35 to want to start their own business) and this extended time at home is giving them a chance to consider whether they should start a business, go self employed or just change jobs. While some of us watch Tiger King and The Last Dance, 29% of us are thinking of a business idea. Hopefully not inspired by Tiger King.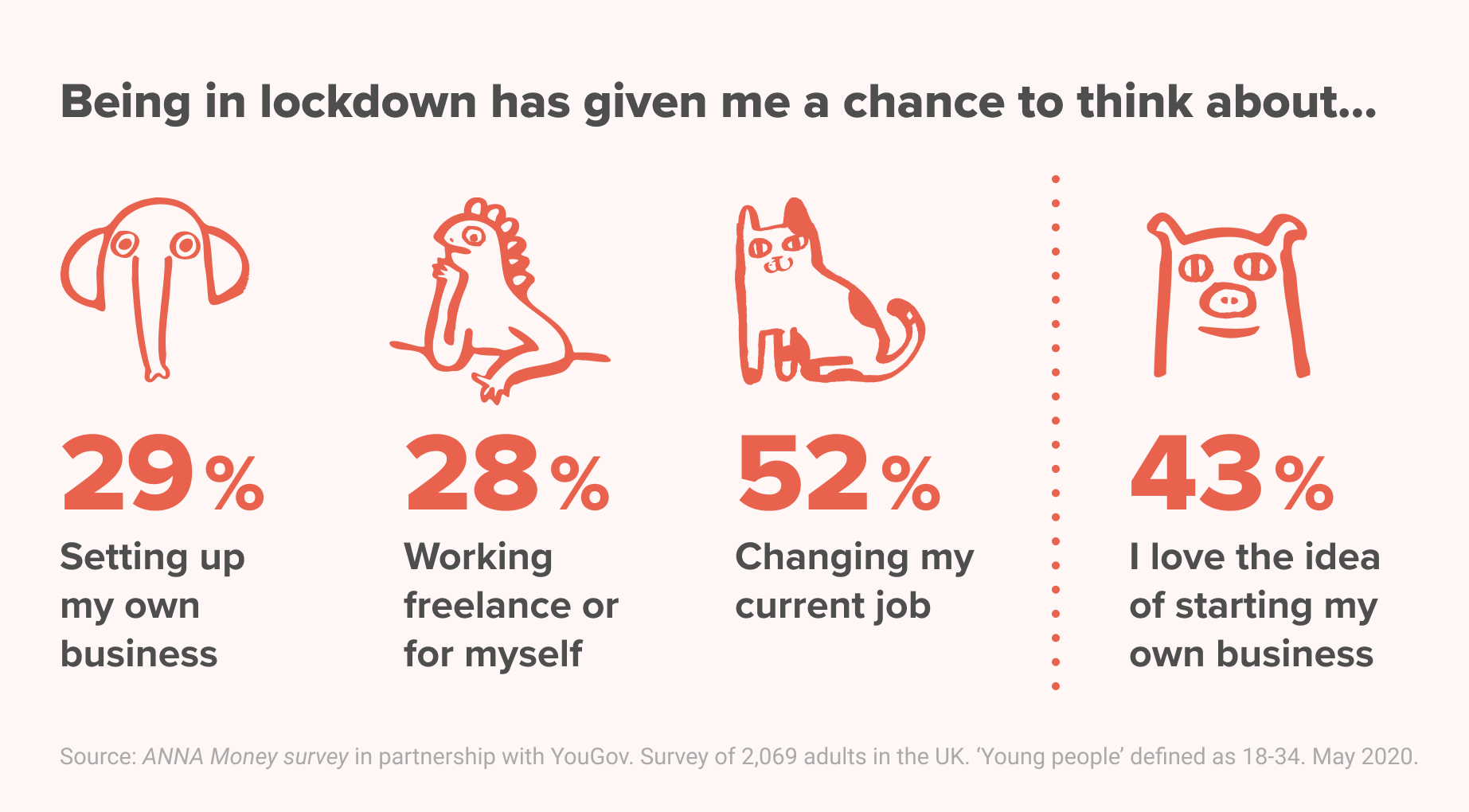 43% of young people love the idea of starting their own business - we love that
4 in 10 young people are planning post-lockdown changes
Perhaps surprisingly, 4 in 10 young people are actively looking to make a change when lockdown lifts.  Within 12 months, 19% of 18–34s plan to start a business or go self employed, taking things into their own hands. We love the idea of Furlancers kick-starting the economy when things do begin to lift and their ideas begin to blossom into reality.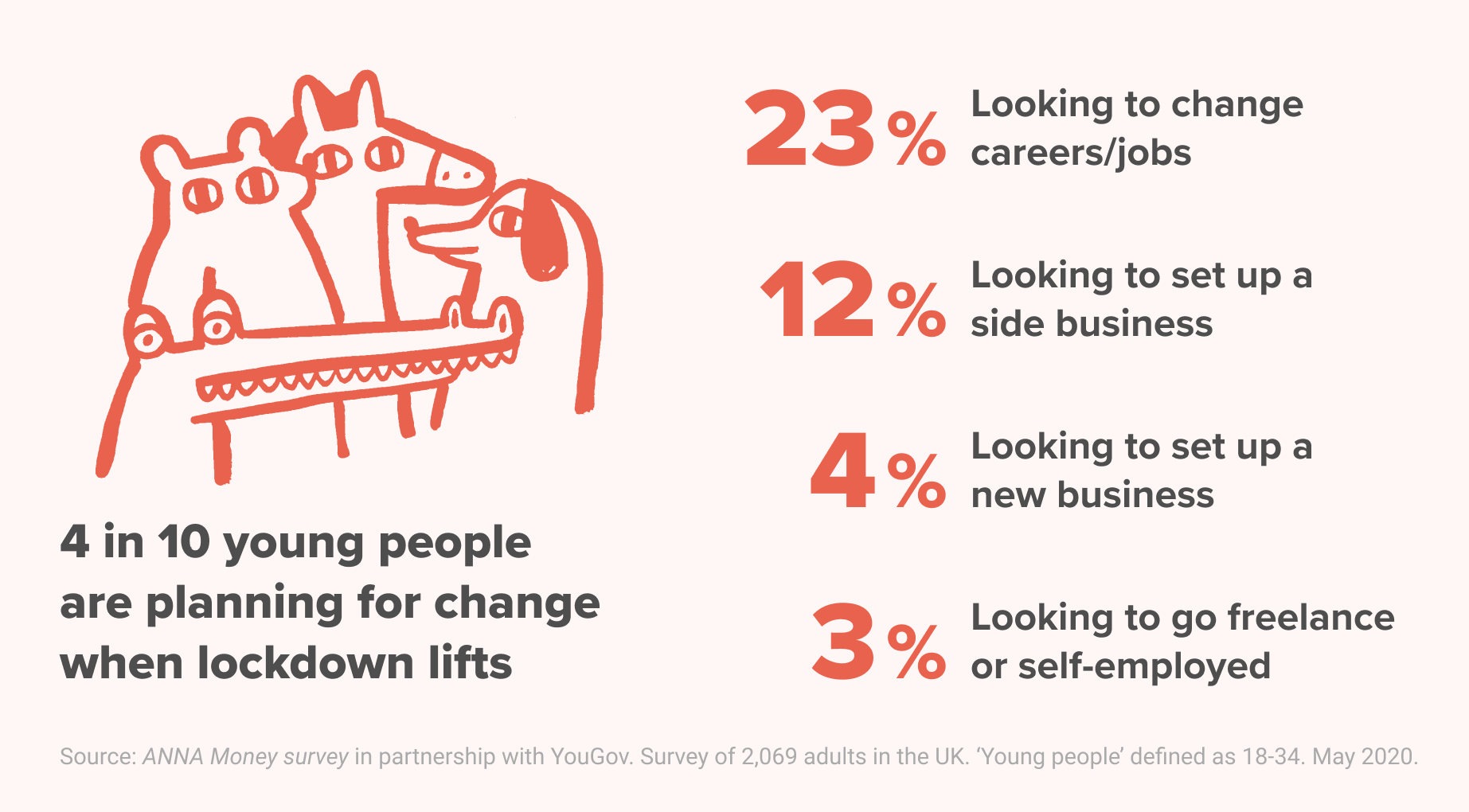 19% of young people are actively looking to start a business or go freelance after lockdown
Time at home and an insecure job market are driving this
Less surprisingly, it's time at home that is driving this. Lockdown is very much like daydreaming on a beach on holiday (hmmm… but add in work, no outside space and remove all the fun) – it gives people time to ponder what they're doing with their lives.
Beyond this, there is the pervasive fear that the job market has affected everyone's prospects, and this is driving young people to take control of their own destiny by starting a business. We appreciate this. Furlancers are very much ANNA people.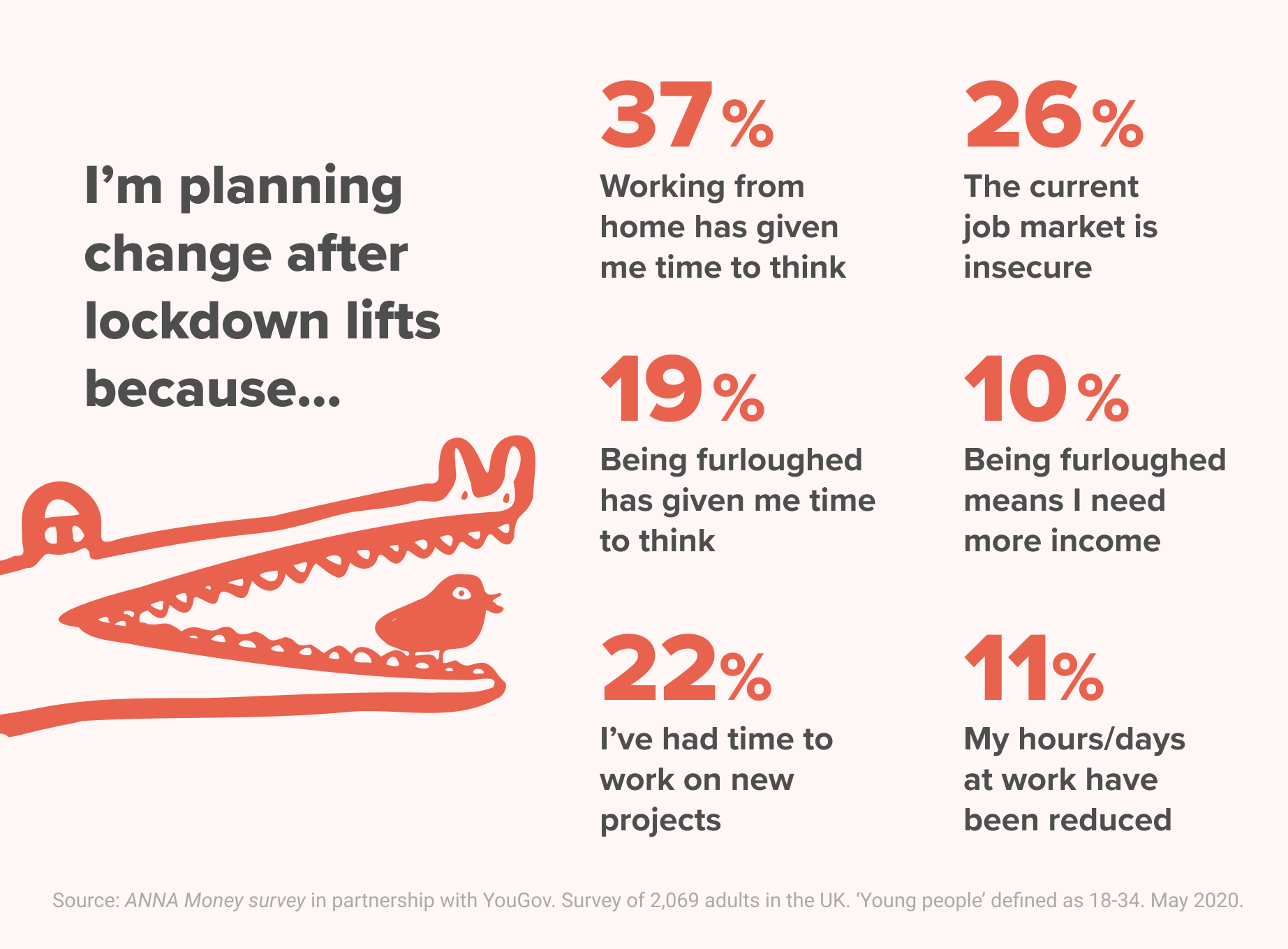 Time at home is the big driver of change - but so is the gloomy outlook for the future job market
Meet the Furlancers
You don't have to be furloughed to be considered a Furlancer, and there's all kinds of businesses sprouting up – including ones directly driven by the needs that Covid-19 and lockdown have created.
Stef and Kaly previously ran separate businesses before, but now run JetMask.co.uk, a place to get a "more fashionable alternative to surgical masks". As demand for face masks skyrocketed, and as government advice confirmed their effectiveness, JetMask created their own diamante-based face masks. "We wanted to give people the chance to still feel glamorous wearing a face mask". Although lockdown provided plenty of challenges for them, "it has forced us to think outside the box and pushed our creativity to new heights"
Marios and his partner Eleanor were starting up their natural skin products business, called MeOrganics, when lockdown started. "Lockdown actually gave us the opportunity to create some products that people really needed because of coronavirus", which led to them quickly launching a range of hand sanitiser and anti-bacterial soaps just as demand increased for those products. "Combining sanitiser with natural ingredients such as essential oils, it was a big hit".
The future is Furlance
We hope that in years to come, we'll be able trace some of Britain's biggest business success stories to the Furlancers of 2020; a generation of entrepreneurs and dreamers who saw the lockdown as an opportunity to change their lives. Go Furlancers! (You don't have to actually say that out loud if you don't want to).
ANNA is perfectly positioned to help Furlancers make their first steps into the world of business. You can open a business account with us in under 5 minutes, we have award-winning 24/7 customer service coming straight outta Cardiff, and we'll help sort invoicing and tax. Even better, we're free when you're starting out.
Open a business account in minutes
Take the load off with ANNA, the business current account that sorts your invoices and expenses.
Enter your mobile number
Get a business account and a debit card that miaows
We create, send and chase up your invoices
We snap and sort your business expenses
Never miss a deadline, with handy tax reminders