ANNA Wirecard update
26 June, 2020 · 6 min read
Latest updates from the ANNA team about the Wirecard situation and how it affects ANNA customers.
Last updated: June 29, 23:18 GMT – great news – check our new post on restarting your ANNA account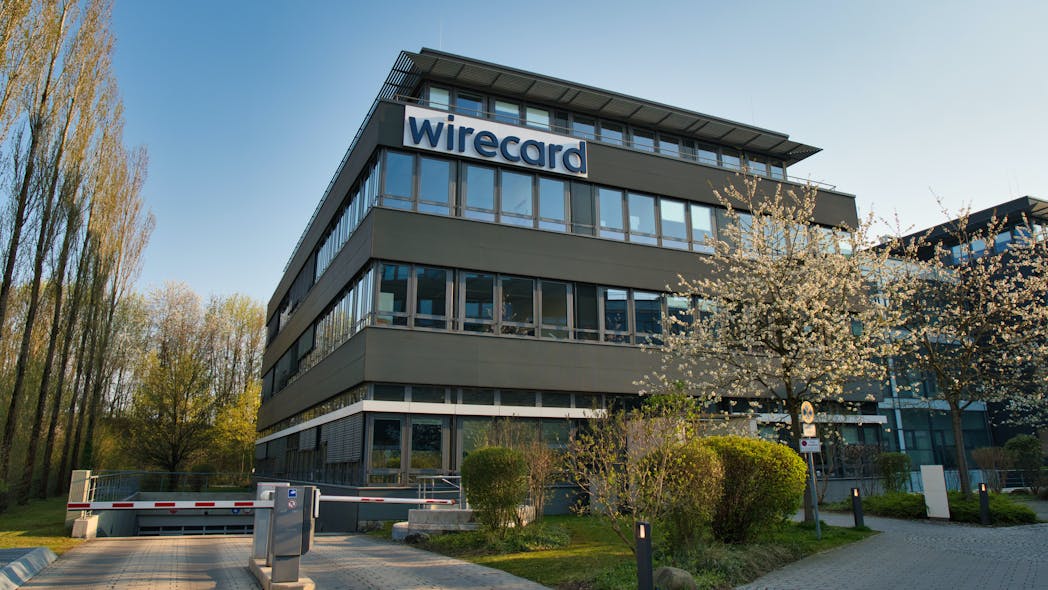 A message to all ANNA customers. 
We're very sorry that your ANNA card and account have been temporarily suspended.
We expect the suspension to be lifted, and we are working to restore access to your card and account as soon as possible. Your ANNA card details and the money in your ANNA account remain safe and secure – but unfortunately you cannot currently access them. 
This is happening because on the morning of June 26 the Financial Conduct Authority suspended its permission for Wirecard Card Solutions Limited to operate – without prior notice. This action is not in any way related to ANNA, but since ANNA depends on Wirecard Card Solutions Limited to process payments, it affects ANNA and your ability to access your money. We are working as hard as possible to get things back up and running and hope this disruption is over as quickly as possible. We will update you as soon as possible.
An update from the FCA on 29 June
Over the weekend the FCA continued to look at the Wirecard situation and this morning (29 June 2020)  released the following statement:
"Following last week's news of €1.9 billion missing from the accounts of the German company, Wirecard, we placed requirements on the firm's UK business so that it should stop carrying out regulated activities and not pay out or reduce any money it holds. Our primary objective all along has been to protect the interests and money of consumers who use Wirecard. Teams from across the FCA have been working with the firm, and other international and UK authorities, over the weekend, and we have seen good progress by the firm in meeting the conditions we set.
We are maintaining pressure on the firm to resolve these issues which would allow it to operate under certain conditions.  However, we cannot lift the restrictions without reassuring ourselves that the firm has been able to satisfy all our concerns for example that all clients' money is safe. We hope to be able to issue an update soon."
Everyone at ANNA is pleased that the FCA has seen progress, and we hope to bring you more news from the FCA as soon as possible. 
You can read the statement and other FCA news about Wirecard on the FCA website.
Below are some quick answers to the questions you might have.
What happened?
On 26 June 2020 the Financial Conduct Authority suspended operations of Wirecard Card Solutions, our card-issuing partner.
Who are Wirecard Card Solutions?
Wirecard Card Solutions is an e-money institution.  ANNA uses them to provide e-money accounts to our customers, issue debit cards and process customer payments. That means the money in an ANNA customer's account is not held by ANNA, but with Wirecard Card Solutions, who keep it in a ring-fenced Barclays bank account.
What does this mean to me?
The FCA action means the money in ANNA customers' accounts is frozen. Your money remains completely safe, but the FCA action means that you cannot access it right now. Read more on the FCA website
Why didn't ANNA warn me about this sooner?
The Financial Conduct Authority suspended its permission for Wirecard Card Solutions Limited to operate on the morning of 26 June 2020 and we had no warning that Wirecard in the UK was in any trouble. As soon as ANNA learned that the FCA was suspending operations of Wirecard Card Solutions, we messaged all our customers to let everyone know.
Is it only ANNA customers that are affected?
No. Quite a few UK-based companies and their customers have been affected by the sudden suspension of Wirecard Card Solutions. Other e-money providers such as Curve, Holvi and Pockit have also been affected.
So, where is my money?
If you're an ANNA customer, your money is held by Wirecard Card Solutions in a ring-fenced Barclays account. The FCA action means that Wirecard Card Solutions's account is frozen, so you cannot currently access your funds. When the FCA allows the money to be released you will be able to access it.
When will I be able to access my account?
We expect the FCA suspension to be lifted – and so your inability to access your account and card is temporary.  We're aiming to have an action plan and more detailed information about suspended payments by Tuesday morning with the goal of getting accounts up and running again as normal. When we have absolute clarity on the timing we'll let you know.
What happens if someone sends money to my ANNA account now?
If you are expecting any payments, we suggest you ask your clients to send them to a different account. If someone does send you money, the payment will be declined and returned to the sender – but it may take some time.
How will you keep me updated?
We will be informing you via Facebook, Twitter, emails, in the app and by posting the latest information here on our website. We know how frustrating this situation is, and we are trying to keep you as informed as possible. As soon as we know more, we pass the information on to you.
Will you be refunding/freezing the ANNA fee whilst my money is frozen?
Absolutely. All customers will have their account fees for this month refunded. While accounts are frozen you won't be paying any fees.
If my money is safe in a Barclays bank account, why can't the FCA just release it?
We believe that The FCA will eventually do this. They are reviewing the situation with Wirecard Card Solutions and need to make sure everything is in order before they can release the funds. At this stage the FCA have not told us how long this will take.
The issues facing Wirecard AG in Germany have been known for a week. Did you not see this coming?
We were aware of the situation with Wirecard AG in Germany, however we were repeatedly reassured by Wirecard Card Solutions that this would not affect operations in the UK.
What actions is ANNA now taking to resolve the situation?
Our goal is to give you access to your money as quickly as possible. We are speaking to the FCA for further guidance. We are also working on establishing an alternative payment infrastructure that doesn't use Wirecard Card Solutions, and conversation is well underway with two reputable payment providers to create a seamless switch away from Wirecard Card Solutions. We are also speaking to Mastercard about switching ANNA cards to a new payment provider, and they are providing us with a lot of assistance. We are working around the clock to resolve this situation.
How do I know my money is safe in the Wirecard Card Solutions Barclays account?
It is a requirement from the FCA that funds are stored in a ring-fenced account, and the FCA supervises regulated entities to make sure they comply with the regulation and store the funds correctly. All funds in the Barclays account belong to ANNA customers and cannot be used for any other purposes. Although the account was officially attributed to Wirecard Card Solutions, ANNA had visibility of the Barclays account prior to the FCA suspension, and we saw no unusual activity.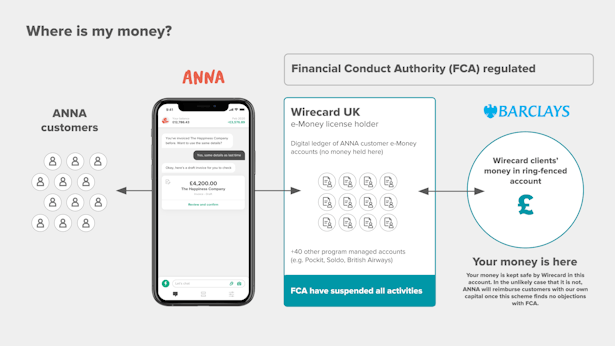 I sent a payment from my ANNA account on the morning of 26 June. It shows as sent but it hasn't arrived at its destination. What happened to it?
If you sent it out before 10am on 26 June it should have been delivered to the destination. Please please contact us in chat for payment trace information, which can be provided to the beneficiary bank to help to locate the payment.
If you sent it out 10am–12pm 26 June it won't have gone through as some services were partially suspended even before 12pm. Unfortunately, we weren't aware of that at the time. These funds are still in the ring-fenced Barclays account and should eventually be credited back to your ANNA account and made available to you. We will try to make it clearer in the ANNA app that these payments didn't go through – we know it's confusing to see it showing them as sent. At the moment our developers are working hard to move us to a new provider to make funds available as soon as possible.
Someone sent a payment to my ANNA account through Faster Payment Service. It wasn't credited to me but it didn't bounce back either. What's happened to it?
All payments made to ANNA before 11am on 26 June were credited to customers. We know that some payments which arrived after 11am were returned to their original accounts, but some of them weren't. If an incoming payment sent to your account didn't bounce back, it means it was credited to the Wirecard ring-fenced Barclays account and the funds are now safe within there. Unfortunately we can't access that account at the moment but the payment is not lost and it will eventually bounce back or will be credited to your ANNA account and made available to you.
Please contact us in the chat and provide details of this payment, so we can double-check it as soon as we get access to the list of incoming payments to your ANNA account. Please tell us the:
Amount
Approximate time it was sent
Sender account sort code, number and name
Reference (if any)
There is also a chance that the payment did bounce back, but the return hasn't yet been picked up but the sender bank. Please ask the sender to get confirmation from their bank that the payment was actually delivered to the destination (it would be especially useful if it includes Faster Payment ID). If they can confirm the payment delivery ask the sender to check with their bank to see if they can find the return payment.
Who are the FCA?
The FCA are Financial Conduct Authority – the UK financial market's government regulator. You can find out more about them on their website.
Are all Wirecard services affected or it is just ANNA?
All Wirecard services have been hit. There are more than 40 companies affected by the Wirecard suspension.
If ANNA customer money is ring-fenced in a separate account, why can't we access it?
The FCA has suspended all Wirecard's accounts. So ANNA customers cannot get access to their Wirecard accounts – this includes the money in the ring-fenced account.
When will ANNA customers get access to their money?
We're hoping it will happen very soon, but it will be no later than two weeks. 
Can ANNA guarantee all ANNA customers will get their money back?
We cannot guarantee, but we are working hard on it. We are prepared to put our own money into customer's accounts to prove how committed we are. We have enough cash reserves to cover all the money in ANNA accounts, but we cannot do this immediately as we have to make sure everything is legally proper and the FCA does not object.
Should we be communicating with the FCA or ANNA?
The FCA ultimately decides what will happen to client's funds with Wirecard. We have no say in that. However, when the FCA makes its decision it will communicate that to ANNA, and we will tell our customers. 
Will ANNA arrange compensation for loss of business?
We are looking at getting funds available to get our clients' businesses up and running. After that we will explore compensation proposals.
Will ANNA's next payment provider be based within the UK?
Yes.
Are accounts linked to ANNA accounts in any danger of being frozen?
Absolutely not.
Open a business account in minutes
Take the load off with ANNA, the business current account that sorts your invoices and expenses.
Enter your mobile number
Get a business account and a debit card that miaows
We create, send and chase up your invoices
We snap and sort your business expenses
Never miss a deadline, with handy tax reminders