How to find the right coworking space
22 January, 2020 · 5 min read
You've been planning your next move to go freelance or start a small business. You've worked out your proposition, maybe registered with Companies House and purchased a domain. The next step is to set yourself up with a work space. Perhaps you can make do working from home or grabbing a few hours in a coffee shop. But with limited space and obvious distractions, these arrangements have limited lifespans — not to mention the mounting coffee habit. Here are a few pointers to consider when finding a suitable coworking space to support your small business growth in 2020.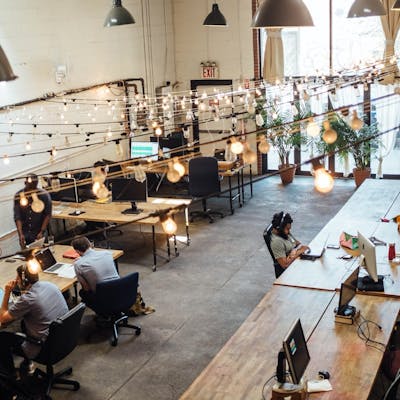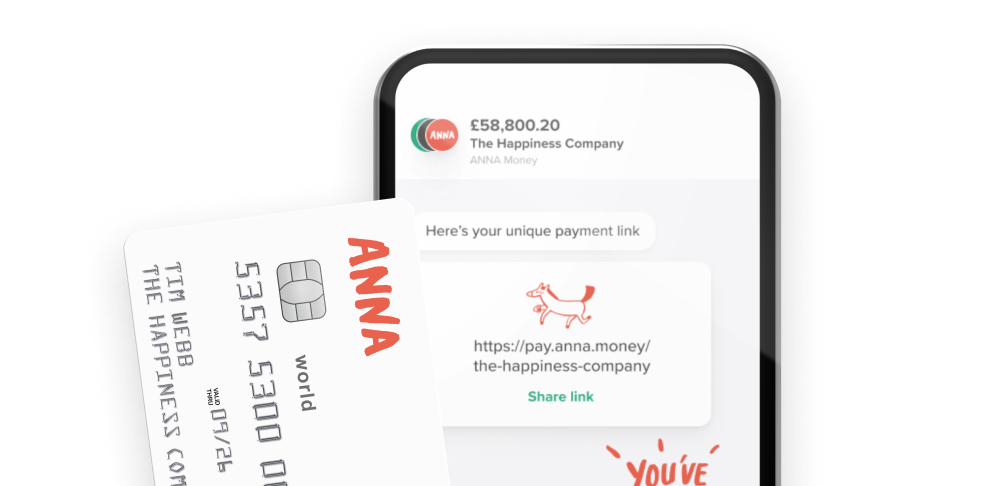 Open a business account with ANNA and get your taxes sorted
With ANNA you get a debit card, automated bookkeeping, a personal payment link, 1% cashback and 24/7 customer support
Why choose a co-working space?
The notion of a traditional office or studio has been just as disrupted and reinvented as every other service we can think of in recent years. And unsurprisingly there's a dazzling array of choice.
The speed at which businesses can find and secure a coworking space is a key driver in its rapid growth. You can walk into most space providers and depending on availability be set up and ready to go that same day. Coworking spaces offer a beautifully streamlined service — removing all the hassle, admin and extra costs inherent in a traditional office rent: no business rates, no added cleaning or security costs, no need for an office manager or front desk. Don't forget this is all claimable as a business expense.
Coworking spaces remove all the hassle, admin and extra costs inherent in a traditional office rental
Read some reviews of coworking spaces before committing, just as you might do for a restaurant or a hotel. You'll be spending a whole lot more time at work, so it's worth a cursory look. You might find discover some revealing comments about WiFi reliability that could swing a decision.
Location is a priority
What's the commute like — is it close to transport links? Think about your well-being. Is it on a choked up roundabout? If it comes to a toss up between two — look a bit beyond the immediate environment — are there any major developments planned on the doorstep? Nobody wants to listen to a hammer drill for the next three years when you're trying to focus on business development.
Look for flexible packages and terms
Can you add or remove desks as you go if you land a large project? What if you want to terminate a contract early if your circumstances change? And what access do you have — is it open at weekends if you want to put in a few extra hours?
Community and culture
As important as the hassle-free set up, a great virtue of being in coworking spaces is that you're among other freelancers and entrepreneurs developing their own businesses, presenting natural social and networking opportunities.
Whether you're looking for a creative hub populated with designers and freelance writers, or more of a corporate community, there really is an environment for every mode and mood. Maybe you're just looking for like-minded people who you might like to socialise with after work, or people to skill-swap or collaborate with.
When you're shopping around, ask if they have an event programme. It may be something you can contribute to, gaining invaluable feedback on your proposition and the chance to hone your presenting skills. Ask if you can visit on an event day, which will give you a good sense of the community dynamics.
On-site childcare
A few coworking providers are collaborating with nurseries to offer childcare on site. This proximity presents an opportunity to reduce your shuttling about at peak times, also potentially working out to be more cost-effective. Whether your children playing away just around the corner would be a distraction from work is another matter!
Look out for hidden costs
Some spaces may charge extra for events or the use of meeting rooms, kitchen facilities and printing. Think about what you need and be clear on what's included in the rates. While a lot of coworking spaces offer flash amenities, they may be superfluous to your needs.
The flexibility of a rolling month-to-month arrangement may work best for you, but bear in mind most places offer better rates if you commit to 12 months minimum.
Minimum space requirements
Are you a sole trader happy to hot desk? Or are you a small business developing the next business banking fintech behemoth to manage HMRC self assessments? Your business will command what level of privacy you'll be looking for — which may well manifest as a private office within a building.
Ask to see all the breakout rooms for meetings and conferences — are there enough to go round? And are there enough quiet phone booths for private conversations that don't require booking in advance?
Help — where do I start?
Here are a few handy resources to help you start your search.
Coworking London and Hubble are both London-centric easy to use coworking aggregators.
Making Moves can point you to available spaces — think a Right Move for coworking
Coworker currently has 600+ spaces listed across the UK, from Exeter to Edinburgh.
Copass — globe-trot with one subscription giving access to 950+ spaces.
Amenities checklist
Security — will you be happy wandering off for a coffee and leaving your laptop on a desk?
Access — is it 24/7?
Technical support — a few larger coworking offices offer IT support. This may simply be a larger embodied cost that you don't wish to carry.
Wi-Fi — is a given — but do ask current tenants about its reliability.
Are there meeting rooms, conference rooms and phone booths?
Stationery and printing services — are these included? Is this something you actually need?
Cafe — if your choice is limited outside, sample the goods when you look round. Is coffee included in the rates?
Heating & ventilation — will the space be bearable to work in during the hotter months?
Lockers and storage facilities — useful if you're heading out straight out after work and don't want to lug a laptop around. And somewhere to store gym bags or notes for hot-deskers.
Showers and changing rooms — for post-gym sessions or a cycle commute.
Mail handling service — potentially very useful for any print marketing initiatives and for taking for deliveries.
Front desk or receptionist — if you're anticipating a healthy number of meetings or wish to present a more sleek and professional face to clients, this might be a valuable service.
Parking and bike storage — don't expect central city spaces to offer car parking facilities, but bike racks are more likely.
Fancy offloading more admin?
At ANNA, we keep things hassle-free by taking your boring business tasks off your hands.
Enter your mobile number
Get a business current account in minutes
Direct debits and team debit cards
We create, send and automatically chase your invoices
We snap and sort your business expenses