ANNA – the home of eCommerce businesses
16 September, 2022 · 4 min read
If your business involves e-commerce, it's worth noting that ANNA is the only UK business account to offer integrations with Amazon, eBay, Etsy, Shopify and WooCommerce.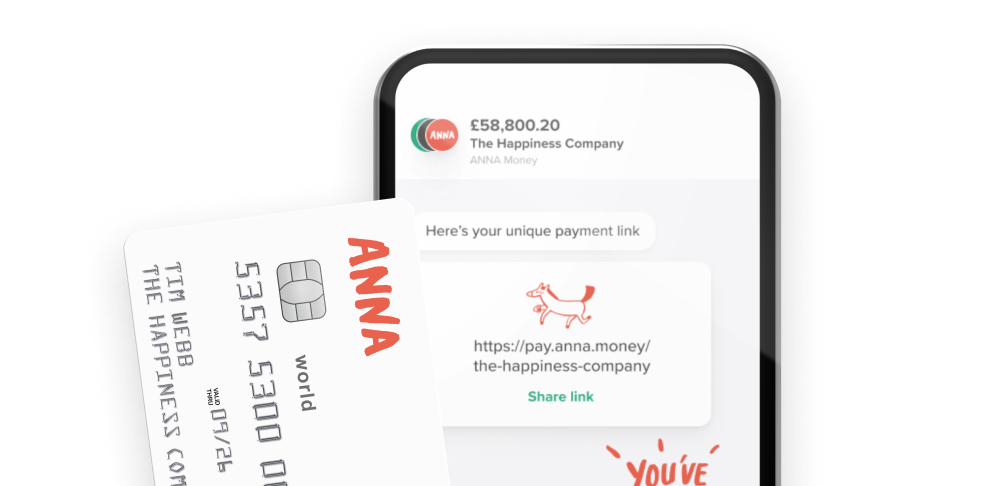 Open a business account with ANNA and get your taxes sorted
With ANNA you get a debit card, automated bookkeeping, a personal payment link, 1% cashback and 24/7 customer support
How does that help my business?
When you connect your eCommerce account (e.g Etsy or Shopify) to ANNA, all your individual sales are imported straight into the ANNA app, along with all the VAT your customers have paid you. This is super useful, because ANNA already records all your expenses, so everything you need for a VAT Return is stored in one place. No more downloading spreadsheets and combining your sales orders with your expenses. And before you ask – yes, refunds are managed too. 
Our reporting syncs realtime to your eCommerce account. We can typically import 90 days of historical data depending on the platform.
At ANNA we know that eCommerce business owners want to focus on the business of making money, rather than spending hours every month downloading statements and organising hundreds of transactions.
File VAT in a tap
All this means that if you run a store on Amazon, eBay, Etsy, Shopify and or WooCommerce  you can directly file your UK VAT return to HMRC with just a few taps in the ANNA app. And if you need to share the information with an accountant or want to chat to one of our tax experts just drop us a note in chat. 
Get ready for MTD
At the moment VAT-registered businesses have Making Tax Digital (MTD) obligations that mean they have to create digital links between the original transaction data and the calculation of their VAT Returns. Over time, these obligations will grow: MTD for Income Tax is expected in 2024 and after that Corporation Tax will get the MTD treatment. 
So eCommerce business owners are best served by getting ready sooner rather than later. An ANNA account is a very handy way to get a headstart with your bookkeeping needs.
How to connect ANNA to your eCommerce account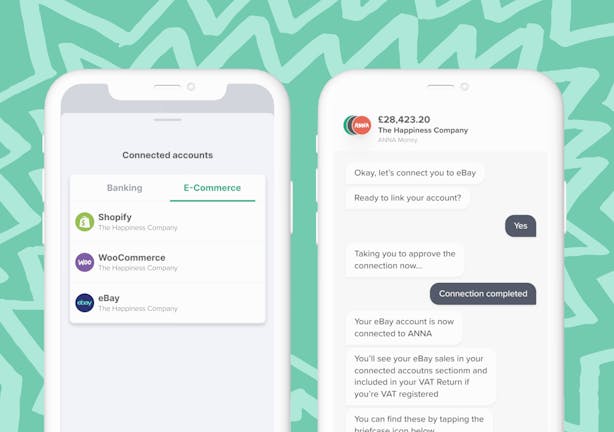 Follow the simple steps below to get moving:
In the ANNA app, tap the briefcase icon at the bottom of the screen
In "Your accounts" card, tap "Connect an account"
Go to E-Commerce tab and hit "Connect a store"
Log in with your admin account name and password for the e-commerce account or store you wish to connect
Hit "Approve"
You're good to go!
...or just tap 'Connect to my eCommerce account' in the chat.
How to check your VAT
Once your sales information has been imported from your eCommerce account, check the "VAT" card in the briefcase area of the ANNA app to make sure you're happy with how your VAT has been calculated.
Next month ANNA is launching integrations for OnBuy and NotOnTheHighStreet, so watch this space!
Open a business account in minutes
Take the load off with ANNA, the business current account that sorts your invoices and expenses.
Enter your mobile number
Get a business account and a debit card that miaows
We create, send and chase up your invoices
We snap and sort your business expenses
Never miss a deadline, with handy tax reminders