How has the British wedding industry coped with Covid?
14 June, 2021 · 8 min read
British businesses of all shapes and sizes have been affected by the pandemic. The wedding industry has been particularly badly hit – it's an industry of 400,000 people that ground to a halt almost overnight.
We wanted to take a closer look at how the wedding industry has coped, and how it's evolving to keep up with changing regulations (right now weddings can take place with a maximum of 30 guests). We spoke to everyone from DJs to caterers about how their businesses have been affected over the last 18 months.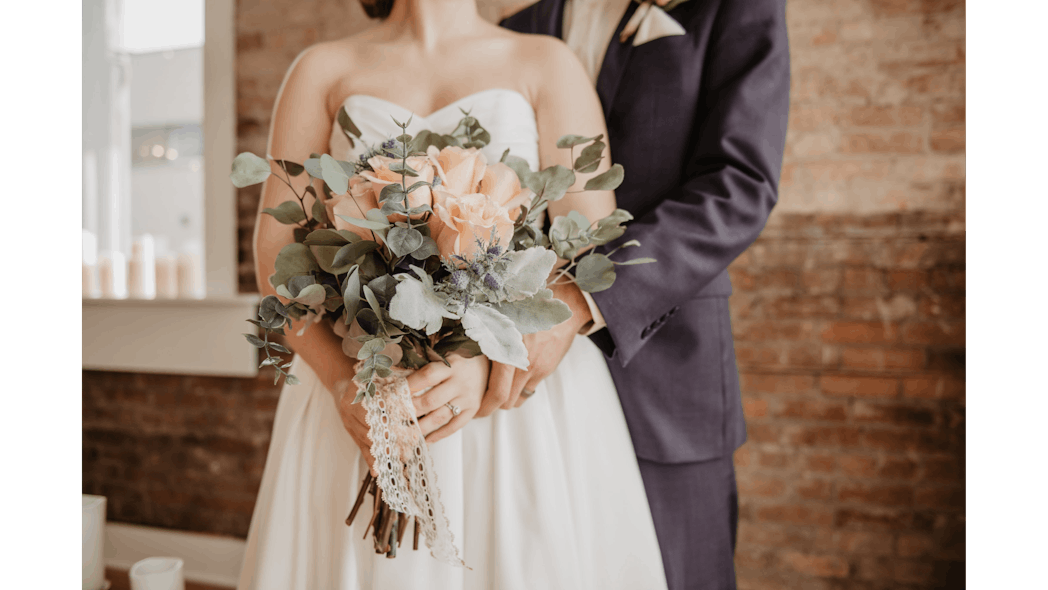 Mark Hornby (co-founder) and Julie Crump (COO) – Caviar & Chips catering
We're getting back in action and our first wedding back was a 15-person wedding in the Virgins & Castle (it's a 16th century pub we own). Smaller, more intimate weddings are here to stay but some people do still want huge gatherings. The pandemic has given people permission to have smaller – or just different – types of weddings.
Forty people at the pub were furloughed. The furlough scheme was essential. The pub first opened on Friday 13th March 2020 then had to shut a week later!
"Furlough was essential. Our pub opened and then closed a week later."
Caviar & Chips has been very busy during the pandemic. It took us by surprise. We've been very flexible with our clients, holding different dates. We ran a 'Save the Date' campaign to help keep everything positive.
The physical, mental and financial wellbeing of staff was a priority. We did quizzes, check-ins and cook-alongs.
With weddings it was very much the network effect when we started out. We aligned ourselves with venues and wedding planners. The whole ecosystem around weddings is amazing, and with so many different people involved and you build word-of-mouth. Weddings are so creative and collaborative. We love them.

Elly Jayne Moyser, make-up artist
Doing wedding make-up is more complex than it seems – the trials take longer than doing the actual wedding! Plus all the logistics involved around scheduling are complicated; I book clients 12-18 months in advance.
I do everything myself; from the admin to running the business. In a normal year I'd do roughly 80 weddings, and it's pretty constant across the year.
"90% of my bookings are rebookings from last year."
When the pandemic was declared and we went into lockdown it felt really scary. For the first couple of weeks it wasn't clear what financial support was available. But lockdown was a useful and productive period. I took the time to look at what I really wanted to do, rebranding and rethinking the business. I started doing online make-up tutorials and selling make-up products such as brushes.
I'm excited to be getting going again. It feels like I've just switched everything back on again and picked up where I left off. I'd say 90% of current bookings are re-bookings from last year.
Hattie Fox – florist, owner of That Flower shop:
The last year's all a bit of a blur – can't remember exactly what happened when. I basically lost three locations (including The Ace, where I'd been for nine years) in four months.
I lost 90% of income as most of the work is weddings, events and restaurants. We had 30 restaurant clients and only two have come back so far.
We weren't eligible for the CBILS because at The Ace we weren't the direct rate payer. We did get a small grant but it only added up to about three days worth of takings at The Ace! Three days worth of takings as compensation can't make up for 15 months of being closed.
We took out a Bounce Back loan and that money was spent on The Ace store. I kept the online orders going from my flat but online sales weren't great. The wedding industry has been shafted. I know three high-end marquee/tipi companies that have liquidated because they just got no support.
When we were doing weddings, restaurants, the shops and online there were 12 of us, with three shops, a driver and a studio. We'd have two people in the shop, two people doing each wedding and a couple working on the restaurant arrangements. We would often do three weddings in a weekend. They're really stressful, especially in London – the traffic and logistics are a nightmare.
It's been scary. We're making a lot less money. Sales have fallen off a cliff in the last lockdown. We don't know what things are going to be like day-to-day. It's worrying but we'll survive.
"Our life is better now. We're skint but we prefer it!"
A former restaurant site became available, and we've redecorated and turned it into a shop. I had intended the space to just be the studio but people kept sticking their heads through the shop asking if we're open! So we thought we might as well make up a few bunches and sell them. It's so different and the customer is so different it's like starting from scratch.
The pandemic has made us reflect a lot on our business.
We've reflected on how hard it is to run a business and so have taken out all the bits we don't really like – like being too big. We're now a tiny team. I do half-days and go to the flower farm in Kent. I want to live my life and have a life. Our life is way better now – we're just skint! I prefer it. May that old life never come back.

Max Robinson, founder of The Wedding Smashers, who offer alternative DJ services
When we set up we decided that we didn't want to be too expensive; we're happy to do a wedding in a pub or a palace.
We've tended to win work via having good relationships with venues. Also photographers like us – good music makes for great photos.
The last wedding we did was in March 2020. At that point we didn't realise quite what lay ahead or how long the effect of the pandemic would last on the industry. We thought things might have been different by last summer! We were very flexible, kind and supportive to couples who had to cancel or postpone their weddings. We tried to be assuring to everyone, moving bookings and not charging.
I had wanted to have a break anyway and had some savings so I really took the time during the pandemic to have a rest, reflect and re-evaluate working life. And I took up drumming.
"Two years of weddings in one summer!"
The Furlough scheme and other Covid-relief grants/loans weren't right and I wasn't comfortable taking hand-outs etc but I did get a place on the British Library's small business training scheme which was £10k worth of training and advice, which was really useful.
This summer we'll have two years worth of weddings in one summer! It's going to be very busy but I think that the way we do business and my approach to business and work has changed.

Kat Reeves, owner of Kat Bakes wedding cakes
I predominantly make wedding cakes and do a bit of mail order and celebration cakes.
When I started I didn't know what I was doing! I set up the business when I was 27 in 2015. It was a lot of trial and error. I had a background in digital marketing and worked with a big beauty business so I understood that side. But I didn't know anything about admin. So I did a lot of Googling and found things out via word-of-mouth.
I did supply cafés but that's very uncreative as they tend to want the same things over and over again and you're not baking to order so there's a lot of waste. So in 2017 I stopped doing that. Wedding cakes are a chance to be much more creative and directly get in touch with customers.
When the pandemic hit I had an income outside of the wedding industry (I also have an arboriculture business with my husband). At first there wasn't a sense of panic in terms of being able to pay the bills. Then people started cancelling bookings and it all started to feel a lot more real. You know the Ts and Cs but also you have to have a heart – so of course, I gave people back their deposits.
"You know the terms and conditions – but you still have to have a heart."
Then online orders (things like brownies and cookies) really started to take off. I definitely had to streamline things – for example I overhauled the packaging. Before Covid I hadn't really put much thought into this side of things.
I've made a couple of small wedding cakes recently. I noticed I wasn't converting quotes into orders for the smaller cakes – it was more enquiries. The types of weddings have changed: just the parents, with a smaller budget and then maybe have a party later down the line.
In the last two weeks bigger enquiries have started to come in again. Some weddings are around the 100-guest mark.
I've adjusted the pricing. When I think about what I used to charge, I was giving them away! It's me designing and making the cake; it's very personal and very time consuming. It takes two or three days to make a wedding cake. I used to find it very hard to charge my worth.
Some final thoughts
It's been a tough time for the wedding industry but there are positive signs emerging. The vaccination programme means that some restrictions have been eased.
It's an industry that straddles the commercial and the creative, and so many people involved have used the last year to re-evaluate what they want and reinvent their businesses. It's less about returning to things as they were and more about finding new ways to make weddings work.
With thanks to everyone we spoke to, including:
Steve Pretty from the Hackney Colliery Band
Max Robinson from The Wedding Smashers
Marc Hornby and Julie Crump from Caviar & Chips
Elly Jayne Moyser from Elly Jayne Make Up
Hattie Fox from That Flower Shop
Poppy Kenny from Poppy Tallulah Hair and Make-up
Matt Start from Swagger
Kat Reeves from Kat Bakes
Open a business account in minutes
Take the load off with ANNA, the business current account that sorts your invoices and expenses.
Enter your mobile number
Get a business account and a debit card that miaows
We create, send and chase up your invoices
We snap and sort your business expenses
Never miss a deadline, with handy tax reminders