How to make money on TikTok: tips for small businesses
30 September, 2020 · 6 min read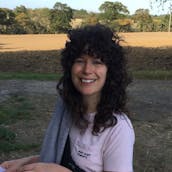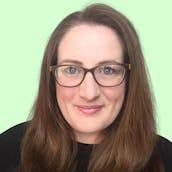 TikTok is still a relatively new social media app, and users are still discovering the best ways to succeed on the platform. But it isn't just for teens to show off their dance moves – TikTok could help you promote your small business, and even earn you extra income. We spoke to Charlotte Jessop, CEO of Looking After Your Pennies, about her popular TikTok account which focuses on personal finance tips. Here's her advice on making TikTok work for you.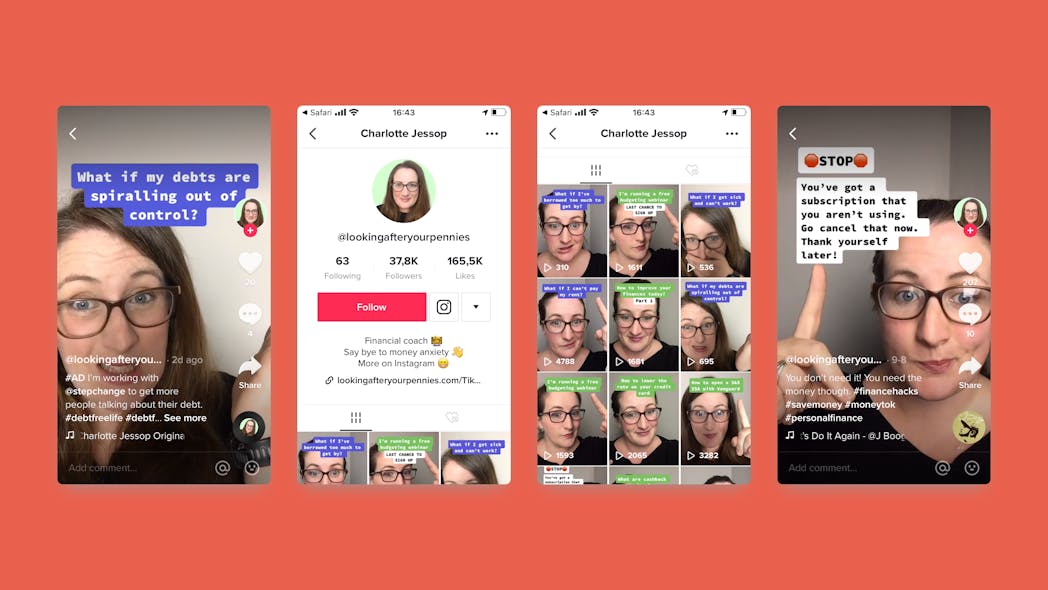 Hi there! Please could you tell us a bit about you and your business?
I started my website back in spring of 2018, when I was on maternity leave with my daughter. I was looking for a way to make some extra money and work fewer hours, and so I started writing about my interests – which are personal finance and the environment. I was writing on the side, creating content in the evenings whilst I saved up enough money. Eventually I was about to give up my job and go travelling around the world with my family in September 2019!
My website content helped fund our travels, but when Covid happened we came home and I had to decide whether to go back to work as a teacher, or pursue my side hustle full time instead.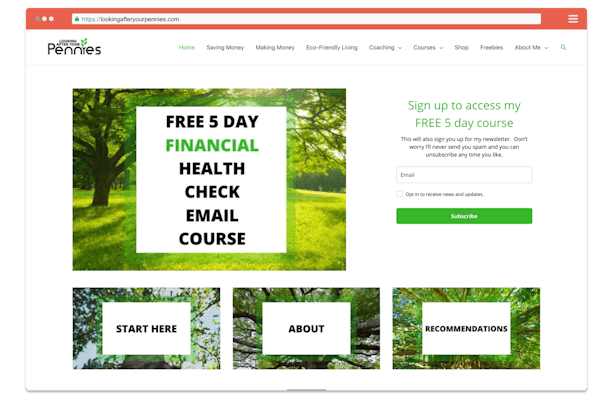 Charlotte's website, Looking After Your Pennies
How do you promote your business?
I'm building a personal brand, so I create a lot of self promotional content on social media. I'm on all the main platforms, but I prioritise Instagram and TikTok. It's all about creating well thought through content, posting regularly and leaning into the algorithms – making sure my posts are properly tagged, that I'm following relevant creators, and staying engaged with my audience. Social media apps tweak their algorithms all the time, so you need to be checking them regularly to stay ahead of the curve.
When did you first start using TikTok? What attracted you to the app?
I was speaking to some fellow personal finance bloggers earlier in the year and someone suggested TikTok was going to be big, so I registered an account but didn't do much with it. I wasn't sure it was worth investing time at first, because I was already doing a lot on social media. I started following personal finance video people on TikTok, but they weren't making personal finance content on the platform, they were making lifestyle content. That's when I thought 'I can help here' and stepped into the gap! I also noticed that the only UK-based TikTokkers making personal finance content were young men, so I was doing something a bit different to the rest of the creators on the platform. There are a lot more personal finance TikTok creators in America (the U.S. is always ahead of us when it comes to social media) so it's always worth doing your research and seeing what else is out there.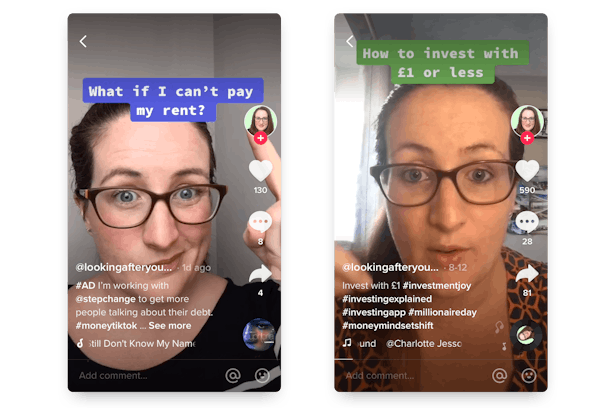 How do you get ideas for your videos, and then produce them?
I already had lots of blog and Instagram content that I could repurpose for TikTok, which really helped. Then as it's progressed I've taken feedback and suggestions from my viewers about what to make new content about, and I keep a list so I don't forget anything. I batch produce my videos, which helps me manage my time and also means I can get into the swing of being on camera. Once I've shot a couple, I warm up – it's a bit like making pancakes, you always mess the first one up!
Could you talk a bit about how to make money on TikTok? How many followers do you need?
There are three main ways to generate revenue on TikTok. Firstly there's TikTok's creator's fund which is paid directly by TikTok on a pay per view model – your account needs to meet a few criteria to be eligible for this fund, including having 10k+ followers. There's also TikTok Live, which are live videos that you can broadcast if your account has 1k+ followers. Viewers can tip you for TikTok Live videos using coins which they purchase on TikTok, and they're credited to your TikTok account. Then finally there are affiliate links and sponsored posts, which people might be more familiar with from Instagram. So you can link through to your own products or services in your posts (or your affiliates') and you can also create sponsored videos to raise awareness of a brand or service.
The pricing structure for these opportunities really depends on the audience you're talking to and the industry you're in. A lot of companies and brands are still trying to work out the return investment on sponsored posts, so it'll take some trial and error to find out what works for your business. 
If you're prepared to put the content out there, it's free advertising to a well-targeted audience
Is it worth investing time in TikTok to promote your small business?
Yes, I think so! If you run any kind of advertising, you need to work out how to target your audience – but the TikTok algorithm pretty much does this for you by targeting people who have liked similar content to yours. If you're a small business and you don't have a massive advertising budget, why wouldn't you take advantage of a free resource like that? If you're prepared to put the content out there, it's free advertising to a well-targeted audience.
Any hints or tips for getting the most out of your TikTok account?
It's important to speak to your audience, and create content that helps them. The more focused your content, the better TikTok's algorithm will serve you – and your followers. I started following a financial feminist TikTok acount and it's amazing to see how she's built up thousands of followers very quickly, just by having a unique standpoint: finance and feminism.
Find a clear message for people to engage with, stick to it and make sure it resonates with people. When I create my videos, I always have a person in my head that I'm talking to: a mate with a bit of debt and a couple of kids, someone who would benefit from a bit of money advice. It really helps me bring my audience to life when I'm making content.
Do you use any other social media for your business? Facebook? Instagram? Twitter?
I'm on Facebook and Twitter (it's good to own the same handle names across everything, so no one else can use them) but Instagram is my social media home. I prefer creating visual social media, so Instagram and TikTok works perfectly for me.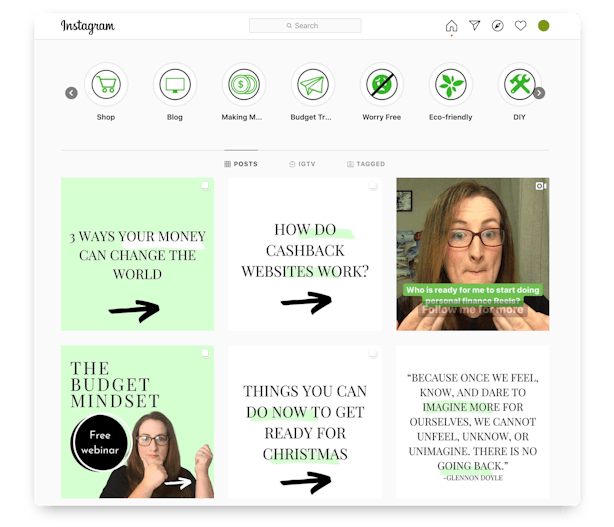 A glimpse of Charlotte's Instagram account
Do you have any hints or advice for how to make the most of these different platforms?
Try creating content around different themes (for example, I did a week all about pensions) and then tie it across all your platforms. If your followers like content on one platform, they might follow you on another and find more content they like there. It's good to coordinate across your platforms, and have different content on different accounts rather than cross posting all the time, so you're giving your audience a reason to seek you out on another platform. Avoid making your content too different though – you can't be two different people on two different platforms or it'll confuse your audience.
Can you recommend any TikTok accounts for small business owners and people interested in looking after their money?
I'd love to – but not many people are creating TikTok content about small businesses and personal finance yet. It would be great to find more like-minded creators so we can build a community, find an audience and reach more people. I hope this inspires people, because there's definitely money to be made out there!
Open a business account in minutes
Take the load off with ANNA, the business current account that sorts your invoices and expenses.
Enter your mobile number
Get a business account and a debit card that miaows
We create, send and chase up your invoices
We snap and sort your business expenses
Never miss a deadline, with handy tax reminders