Your Shopify payment questions – answered
22 October, 2021 · 4 min read
Does Shopify accept Apple Pay? Can you use Stripe with Shopify? What's the best way to deal with chargebacks on Shopify? These are a few of the common Shopify payment questions which come up again and again. We're going to take a few minutes to answer them.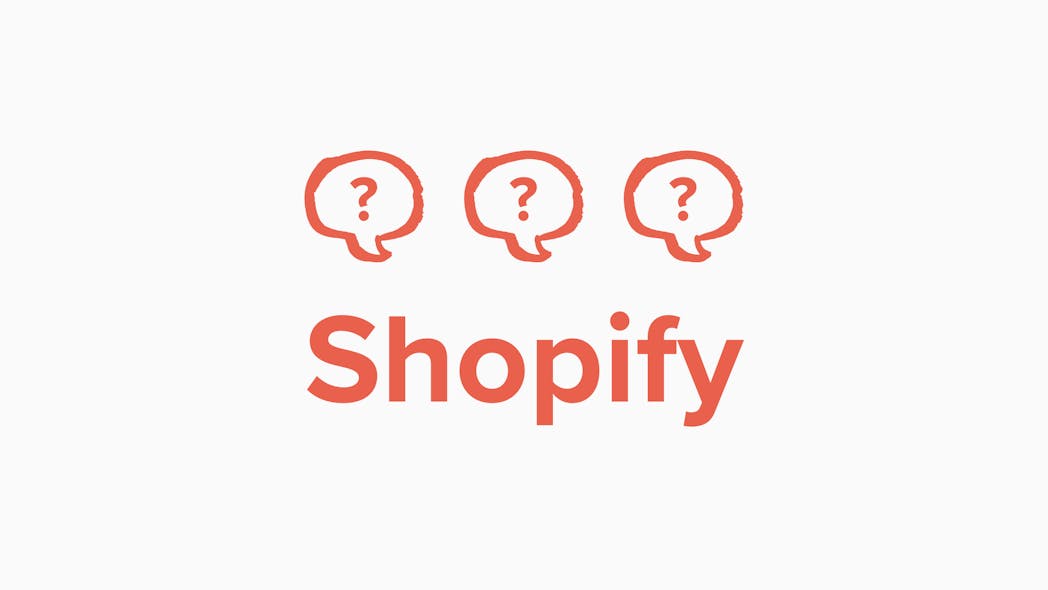 Does Shopify accept Apple Pay?
It does. There are a wide range of payment options in Shopify, from using the native Shopify Payments system to third party APIs and checkouts like Opayo (formerly Sage Pay) and Worldpay. You can also use Apple Pay on your Shopify store.  
Compared to most other methods for processing card transactions Apple Pay is seen as faster and more secure. Apple Pay now has 65 million users (out of approximately half a billion iPhone users) and it's forecast to handle 10% of all card transactions globally. The option to pay with Apple Pay is increasingly common across the web, and some customers will see it as essential.
From the perspective of an eCommerce store owner, anything that shortens the checkout journey is a win in terms of sales. Customers will often abandon checkouts if they have to add details like their address – or if they have to create a new account for every store they use. Studies have shown that removing the 'shipping address' field boosts conversion by 13.4% and removing the 'billing address' boost it by 35%. That's why eCommerce store owners love Apple Pay. 
To start using Apple Pay you'll need to be using one of the following gateways: Shopify Payments, Stripe, Firstdata, Payeezy, Authoize.net or Cybersource. An SSL certificate must also be activated on your store, customer accounts must be disabled or set as optional and you must comply with Apple's terms and conditions.
Can you use Stripe with Shopify?
Yes. You can connect Stripe directly within Shopify. Shopify store owners effectively connect to Stripe in two ways. Option one is Shopify payments which is powered by Stripe, but is only available in certain countries and has a limited set of features compared to the full Stripe package. Option 2 is to get the full Stripe offering by connecting only Stripe as the payment gateway of choice in Shopify. 
What are the benefits of Stripe over Shopify Payments?
If you want to use a currency not offered by Shopify payments, Stripe is an option. Shopify Payments offers 85 currencies but Stripe offers over 135 currencies.
If you are going to also be billing customers and accepting payments via invoice, Stripe can help with this.
If your chargeback rate for your store is high Stripe can shut down your Stripe account. However, Shopify can penalise you for having a high chargeback rate by shutting down your entire store (if you don't know what chargebacks are, see below!)
What are chargebacks?
A chargeback is when a customer disputes the charge made to their credit or debit card by a merchant (in this case, your store). If the chargeback is successfully pushed through by the customer, they get a full refund directly from the merchant account (again, that's you) and the merchant will also suffer a chargeback fee on top of the refund amount.  
Chargebacks generally exist to stop unscrupulous merchants taking advantage of customers by selling items that aren't fit for purpose, are delayed, are the wrong item or are just attempts at fraud. 
Every year there are hundreds of millions of dollars of chargebacks raised by customers to payment processors. There are number of implications for chargebacks on store owners:
the customer who files the chargeback is unlikely to return to your store
a payment process might blacklist you or categorise you a high risk merchant
if you've got a very high chargeback rate, payment processors might even stop accepting payments for your store
Here are a few of easy ways to help your Shopify store minimise the number of chargebacks: 
Deliver products with a reliable courier
Use protective packaging so it's less likely your item will get damaged in the post
Be proactive in managing customer complaints
Make your shipping and returns policy is clear on the website 
Make sure your descriptions clearly and fairly describe the product so customers know what they're getting
Be PCI compliant to safeguard customer card data
If a transaction looks suspicious, investigate it. Sometimes fraudsters will use a customer's credit card to make purchases. 
If you implement all those tips, your customer payment experience will be as good as possible, you'll reduce your chargebacks and should increase your customer checkout conversions.
Open a business account in minutes
Take the load off with ANNA, the business current account that sorts your invoices and expenses.
Enter your mobile number
Get a business account and a debit card that miaows
We create, send and chase up your invoices
We snap and sort your business expenses
Never miss a deadline, with handy tax reminders