5 of the best online marketplaces for small businesses
3 March, 2020 · 11 min read
Online marketplaces provide a fast and easy way to broaden your sales opportunities. Whether you're a peddler of plants or merchant of macramé, we've rounded up the leading players to help you choose the right option for your small business.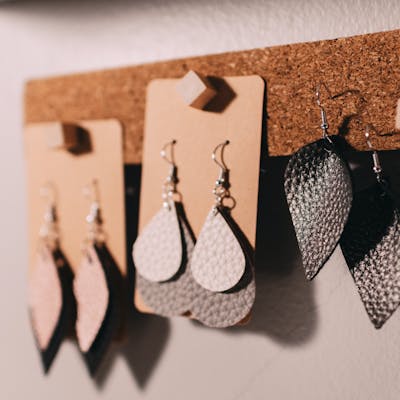 The main online marketplaces
There are a number of huge and established online ecommerce marketplaces that host multiple sellers, sometimes in competition with each other. They all differ from each other with their own rates, rules and regulations, and allow for varying degrees of brand individuality. We're going to focus on four of the key players in the UK – Amazon, eBay, Etsy and Not OnThe High Street – and also take a look at Instagram. It's not a marketplace as such, but is helping to shift some serious stock so makes our edit.
Not On The High Street (NOTHS)
A big player among the UK online marketplaces with over 39 million unique visitors annually. NOTHS is home to 5,500 small creative firms trading everything from jewellery and clothing to homeware, experiences and more. This rich mix of independent designer-makers-manufacturers and boutique retailers are making an average of £29k per year, while their most successful sellers can turn over in excess of £1 million.
What does NOTHS offer businesses?
NOTHS runs regular campaigns across a variety of channels and access to resources aimed at helping your business grow, from trends and product development to guides on how to price for profit. There is an active and supportive community and partner forum – some regional online sellers even meet up in person for a chinwag.
How to get listed on NOTHS
You can apply to become a partner online. NOTHS is probably the most curated and choosy of all the marketplaces. So you'll need to really sell yourself by including a clear, concise summary of your business and great, styled images of your products – you can send a link to a website, Flickr or Pinterest. You should hear within 7 days.
Fees
NOTHS charges 25% commission on sales and a one-off joining fee of £199. This includes an account set up, your online shop window, access to the 24-hour order management system and added-value resources such as SEO, business planning and SPARK, their exclusive partner area featuring how-to guides and trends updates.
Etsy
This crafty, creative giant has a global footprint with over 33 million customers around the world. Your account is not based on approval, so you can establish your shop whenever you're ready. Follow its advice on optimising your listing for Etsy search using the best titles and tags, details on product features and attributes.
What does Etsy offer partners?
Etsy will arbitrate if a seller can't resolve a dispute and offers secure transactions and access to the seller forum. And a huge global following...
How to get listed on Etsy
Etsy is pretty relaxed about who sells with them. You just need to register an account and upload your collateral. Create a banner and shop logo, a welcome message to potential customers, and text for your 'About' section. This is an area to tell the story and vision behind your brand and products through videos, photos and words.
Decide on your shop policies for delivery, returns, exchanges, payments and customised items. And flip over your Open sign!
Fees
Etsy charges a listing fee of £0.15 commission and a 4% + £0.20 transaction fee. There are no monthly fees.
Amazon
The big daddy. Let's get some stats out the way: Mintel suggests some staggering figures – 86% of the UK's population are Amazon users, with 39% of consumers subscribing to Amazon Prime. A whopping 70% of UK customers shop on the ecommerce site at least once a month, while 17% visit Amazon once a week. Yup – it's a behemoth. 
Volume sellers can sign up for a monthly no-commitment plan and sell in all of Amazon's marketplaces in Europe. 
Amazon will happily take the lion's share of logistics off your hands. This is not to be sniffed at if you're a sole trader who doesn't want to be assembling packaging at midnight on your own and shuttling to and from the Post Office on a daily basis.
You don't have to plan and manage your own campaigns or think about SEO on Google – people are there to browse or buy. However, you do need to understand a bit about Amazon's SEO (known catchily as A9) to ensure your products are going to get a good look in with customers.
This requires the right keywords, clear descriptions, catching all variations of spellings that a user may search for without repeating yourself, unique and quality content, and detail about materials, colours or ingredients. Be responsive to any customer questions. The list really goes on, so do your A9 homework!
You can also opt for Amazon Pay-per-click or PPC (also known as Sponsored Products) to help amplify sales. PPC is where an advertiser pays only for the advertisement that a potential buyer clicks to view the product.
There is a downside to selling on Amazon. If you feel your brand lies at the heart of your business, you'll find it hard to build a strong identity on the site. And your listing can simply get lost in the sheer mass of products for sale on the marketplace.
What does Amazon offer partners?
Simply put, your goods will be available to buy by millions of customers from all over Europe. if you opt for their full service package, Fulfilled by Amazon (FBA), your products become eligible for Prime, and subsequently more visible. This means you could offload your storage, fulfilment and advertising.
For craftspeople, Amazon has launched Handmade, which has its own site and audit process to ensure quality and authenticity.
Unfortunately Amazon doesn't offer the most proactive customer service. Sellers need to request a call and Amazon will get in contact with you. Not so helpful if you need a response ASAP. 
How to get listed on Amazon
It's easy to create an account on Seller Central – this will become your seller dashboard. You'll need your credit or debit card and bank account details. Note registration is free.
To list your items you can match against products already available on Amazon, or create a new product listing. Provide clear and detailed information about shipping rates and your policies – try to align with Amazon return policies. Amazon's approach to image sizes and word counts is prescriptive, there's no wiggle room.
Fees
There are two routes of subscription fees for sellers:
Pay-as-you-go plans for low volume of sales (less than 35 items per month) fees are £0.75 per item plus a referral fee based on the product category.
Pro plan for high volumes of sales. From £25 (excluding VAT) per month plus a Referral Fee
Rates for FBA (Fulfillment By Amazon) vary depending on the service package, rack and product size
eBay
eBay has a truly global customer base. You can sell to any nationality that you can ship goods to. The listing type will very much depend on your product and volume of sales. The rule of thumb is – if you're selling multiples, use the fixed price listing. If stock is limited and demand is high, explore the auction option.
Get on top of your keywords and jargon. When it comes to selling branded goods, the words 'authentic' and 'genuine' in the listing title have been proven to generate more sales. The eBay shopper is quite familiar with terms such as BNWT (brand new with tags), NWOT (new without tags) and the more common VGC (very good condition).
What does eBay offer partners?
Trust is very much an issue with purchases made online, and eBay has gone to lengths to address this. Paypal gives both buyers and sellers protection. Seller ratings instill trust too, so don't be shy in asking buyers for feedback when you dispatch their goods.
Selling Manager Pro helps high volume sellers create, manage and schedule listings in bulk, manage and automate after-sale activities and manage inventory. Some more advanced features let you create monthly profit and loss reports and calculate your average selling price.
As mentioned, eBay is truly global and you're not limited to any sales region. So if your local shipping company can get your party poppers to Bhutan in time for King Jigme Khesar Namgyel Wangchuck's birthday, you're in business. 
How to get listed on eBay
It's very simple. Set up an account, navigate to the eBay seller area and set your payment preferences and shipping policy. If things go well, or you already know that you'll be shipping in volume, upgrade to the Seller Manager Pro account. This unlocks a robust dashboard that will make listings management a whole lot easier. 
Fees
For one-off sales you'll be charged an insertion fee – usually a flat 35p per item plus a final value fee of 10% of the final sale price. This is capped at £250, regardless of the sale cost.
If a buyer pays by PayPal, it usually takes 2.9% of the total sale price, plus 30p per transaction.
Seller Manager Pro fees are £4.99 per month.
You may be eligible to take advantage of one of eBay's occasional promotions when the final-value fee is capped at £1 on all items. The promos usually run for two or three days over a weekend. Making it more like a work-end, but potentially a fruitful one.
Instagram
With a mind-boggling 1 billion users every month – allegedly 63% of these checking out cat videos on a daily basis – Instagram gives good reach, and its growth shows no signs of abating. Actually, it's not just feline videos getting all the attention because a surprising one-third of the most viewed stories are by businesses. With the relatively new Instagram Shopping feature, people can buy products directly from photos and videos. 
How to start selling with Instagram's Shoppable Posts
It starts off easy, getting increasingly complicated. Convert your account into a business account if you haven't done so already. Go to settings and scroll down to Switch to Business Profile.
Your Instagram account and business must comply with Facebook's merchant agreement and commerce policies.
You need to connect your Instagram business profile to a Facebook Page and a Facebook Catalog. You can set this up on the Catalog Manager on Facebook or through the Shopify or BigCommerce ecommerce platforms.
When you've completed these steps you can submit your account for review (go to your profile's settings, tap Business and tap Shopping on Instagram). The process usually takes a few days.
As soon as you get the green light, you can announce to your customers that they can shop directly on your business account. Try a simple call to action such as 'Tap to shop' in the caption. Or go live to take questions about the product development.
A few other marketing tips – you can tag your photos, videos or multiple images or videos in a carousel post in your feed and tag stories with product stickers. When customers tag your product in photos and videos, ask their permission to share it on your business account. This is free content for you and keeps your feed fresh and lively with customers loving your product.
Use Instagram Insights – accessible through the app – to see all the activity around profile visits, website clicks, reach, and impressions. In the Content tab check out the performance of your posts and stories; in the Audience tab track the locations, ages, and genders of your followers, as well as the days and times of days they're most active. 
In fact, this resource is quite the all-seeing eye – you can see how many post views come from hashtags, how many people viewed product information or clicked through to its product page. You might feel a bit of a snoop to begin with, but will see how helpful it can be in understanding what type of products interest your followers. This depth of detail might make you take your Instagramming a bit more seriously.
Fees
Instagram deducts a selling fee from any payouts automatically – 5% per shipment, or a flat fee of $0.40 (approximately £0.30) for shipments of $8.00 (£6.00) or less. The selling fee includes taxes, payment processing and checkout transactions.
There are plenty more opportunities to splurge your marketing budget with and around Instagram: to increase sales, you can explore the cost of ads, influencer engagement and tools like Hootsuite or Sprout Social. You can use these to time organic campaigns in advance, referring back to Insights to schedule your posts at optimum times.
Regarding influencers, you don't need Kardashian level budgets – look into working with micro-influencers. Think big-fish-in-a-small pond – their followers are often more engaged. Your buck can go quite far once you work out the metrics.
This round-up of online online marketplaces is by no means exhaustive – possibly more exhausting. You'll see you may not have much to lose by trying one or two out – without making any major commitments or cash investment. Good luck spreading and selling your wares around the world wide web!
Open a business account in minutes
Take the load off with ANNA, the business current account that sorts your invoices and expenses.
Enter your mobile number
Get a business account and a debit card that miaows
We create, send and chase up your invoices
We snap and sort your business expenses
Never miss a deadline, with handy tax reminders