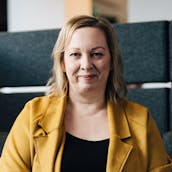 The Hustle writer
Clair Bevan
Clair is a relationship management expert. She has overseen onshore and offshore contact centres, been a mortgage adviser, and was previously a Senior Business Partner at Barclays Customer Experience. At ANNA, Clair is dedicated to building the best support team in the UK. Her leadership and sense of humour ensure the human touch is central to ANNA's DNA.
Want us to chase your invoices?
Paging all freelancers and small businesses: ANNA is a mobile business account that also does your everyday admin. And it's all free while you're starting up.