Introducing free instant virtual debit cards from ANNA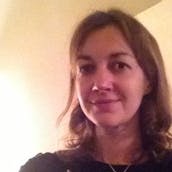 Hit the ground running when you join ANNA with new virtual debit cards. Open your account and get a virtual card you can use straight away, while your physical card is on its way in the post. Because why hang around?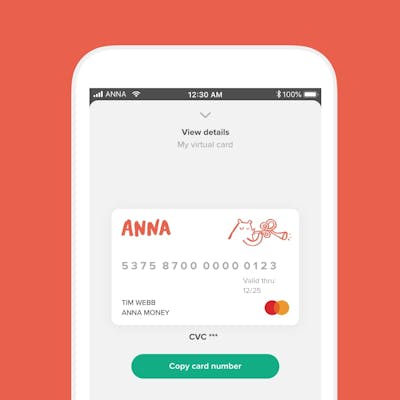 What's a virtual card?
It's a debit card that's stored on your phone, with bank account details you can use straight away for online purchases, like Uber or Amazon.
What are the pros and cons of using a virtual debit card?
If you're a new customer, you don't have to wait for your physical debit card to arrive in the post — you can start using your virtual debit card for business expenses immediately.
If you're already with ANNA, virtual cards are a convenient and secure way of having another card at your disposal, which you can use for certain types of purchase (eg online subscriptions), set spending limits on, and cancel at any time.
In many ways, a virtual debit card is just like a physical one. Both are debit Mastercards, both can be used for online purchases and both draw money from your ANNA account. The main difference is the physical card can be used for payments in the physical world (for example for contactless payments), whereas virtual cards can't. Also, unlike your plastic ANNA card, the virtual card doesn't miaow. You can't have everything...
Will my virtual card have a different number to my physical card?
Yes, which means you have more than one debit card you can use. This can be useful for buying Facebook advertising, which imposes charging limits for payments by card.
Can I set spending limits?
Yes as with physical cards, you can set spending limits on your virtual card. You can also freeze, replace or cancel your card instantly within the ANNA app, if you need to.
How do I get a virtual card?
You'll be asked if you want one when you sign up. If you already have an account and would like to generate a virtual debit card, just ask us in the app. You can find your virtual card any time by going to your Account Summary screen.
Is it linked to Apple Pay and Android Pay?
Not yet, but we're planning to have this up and running in 2020.
Can I use my virtual debit card in an ATM?
No. Your virtual debit card can be used for online purchases, but can't be used in cash machines or physical payment terminals.
Can I get a virtual prepaid debit card for my business?
Your ANNA virtual business debit card isn't a prepaid debit card, but you can control how much you spend with it by setting a spending limit. It's also accepted by more merchants than prepaid cards.
Are virtual debit cards more secure?
They can offer extra security, as you can set a spending limit and cancel the card instantly if you need to. If you lose your phone, your card is protected by your phone's security and your ANNA app PIN.
How do virtual card numbers work?
You can use your virtual debit card details to pay for purchases, just like a physical card. The 16-digit number is different to your physical card, but it's still linked to your ANNA account and the money will be drawn from there.
How long does it take to get my virtual debit card?
We can set one up for you in seconds while you're opening your ANNA account. If you're already with ANNA, just ask us in the app and we'll issue you with a virtual card.
How much does it cost to get a virtual debit card?
It won't cost you any extra, as long as you're within the maximum number of cards for your plan. For a reminder of how many cards (physical or virtual) you get with your plan, see our pricing guide.
About the author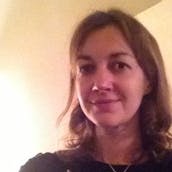 Suzanne is a freelance writer at ANNA Money. She started her career as a business accounts analyst at Barclays Bank before moving into digital marketing. She's written for many major financial brands, including Barclaycard, NatWest and Metro Bank, and has even been a hand model in a NatWest in-store ad.
Read more of Suzanne's writing
Get a business current account in minutes
Take the load off in 2020 with ANNA, the business account that does your financial admin.
Enter your mobile number
Get a business current account in minutes
Direct debits and team debit cards
We create, send and automatically chase your invoices
We snap and sort your business expenses