Becoming an ANNA Introducer
4 July, 2023 · 4 min read
Did you know that ANNA now has an introducer programme? It enables you to refer businesses or sole traders to ANNA – and get paid for it. After you've registered as an ANNA Introducer, you get £100 for every customer you sign up for an ANNA business account or +Taxes account.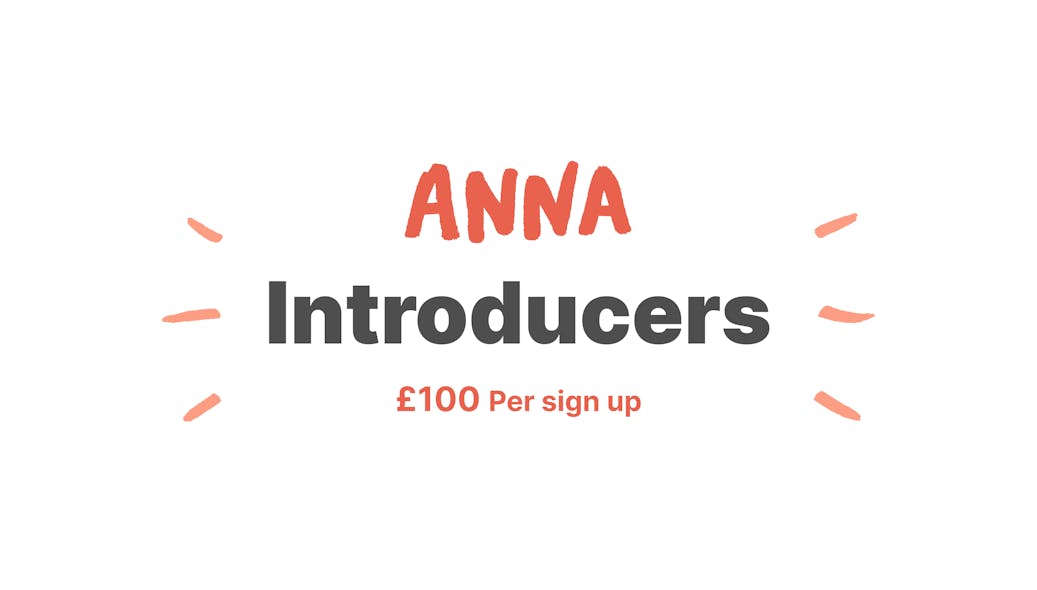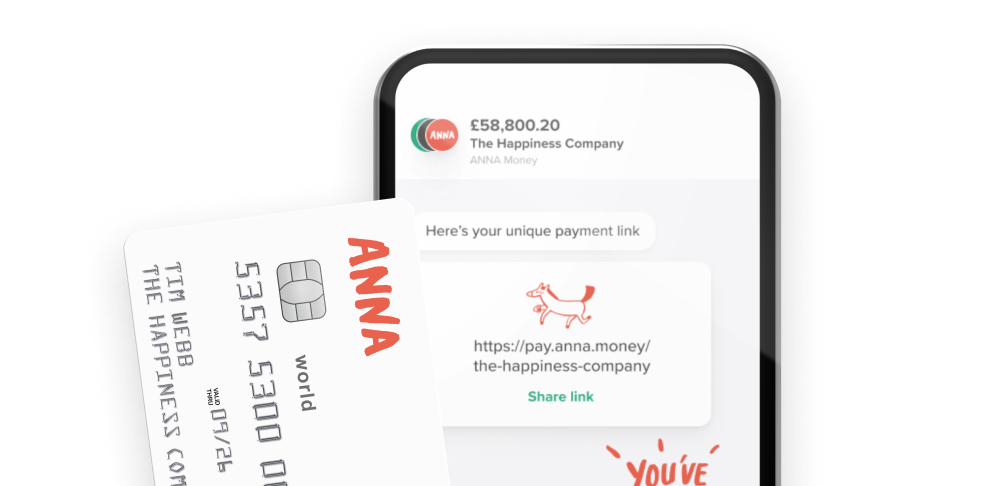 Open a business account with ANNA and get your taxes sorted
With ANNA you get a debit card, automated bookkeeping, a personal payment link, 1% cashback and 24/7 customer support
What do I get?
As an ANNA introducer you:
🤑 Get £100 for every successful sign up
🙀 Get a free subscription to ANNA services
⏰ Can start within 10 minutes
ANNA can provide you with help signing customers up, as well as leads to potential ANNA customers in your area.
What's in it for the people I refer?
The businesses you refer:
⏱️ Get a business account opened in under 10 minutes
👏 Get amazing features for small businesses, from invoicing to VAT
🫶 Benefit from great value products and 24/7 support
How does it work?
ANNA provides business accounts and tax services to small businesses, sole traders and freelancers. Our business accounts can be opened in under 10 minutes and come with a Mastercard debit card (which even miaows when you use it – we love cats). ANNA customers also get invoicing, receipt scanning and payment tools that make running a business that much easier.
We've also recently launched our +Taxes service, which helps businesses take control of their paperwork and taxes. It handles everything from getting a Confirmation Statement to paying Corporation Tax and VAT, and provides customers with a personalised calendar so they never miss a tax deadline.
You can refer potential customers using our referral portal and we'll take care of the rest. We can also provide you landing pages if you need them.
Commission payments are calculated at the end of every month and payment is made direct to your account in the first week of the following month. We can raise invoices on your behalf – we just need your VAT number if you are VAT registered. You can track the status of your referrals in the dashboard.
When you're approved as an Introducer you get your first 3 months of ANNA services (Business account and +Taxes) free, and you can start referring within 10 minutes. Existing ANNA customers who join the programme will get 3 free months of all ANNA services once they've referred at least 3 customers.
Open a business account in minutes
Take the load off with ANNA, the business current account that sorts your invoices and expenses.
Enter your mobile number
Get a business account and a debit card that miaows
We create, send and chase up your invoices
We snap and sort your business expenses
Never miss a deadline, with handy tax reminders