We have a free invoicing tool and we'd love you to use it
3 April, 2020 · 3 min read
We love tools at ANNA, especially admin-based ones. Our favourite admin-based tool? The simple stapler. But our second and third favourites are probably these invoice generators we've created for you to use for free. These generators will help you create the same professional-looking invoices that our customers get, the only difference is you'll have to chase your own payments if they're late. And your debit card won't miaow. Maybe just join ANNA, it's easier.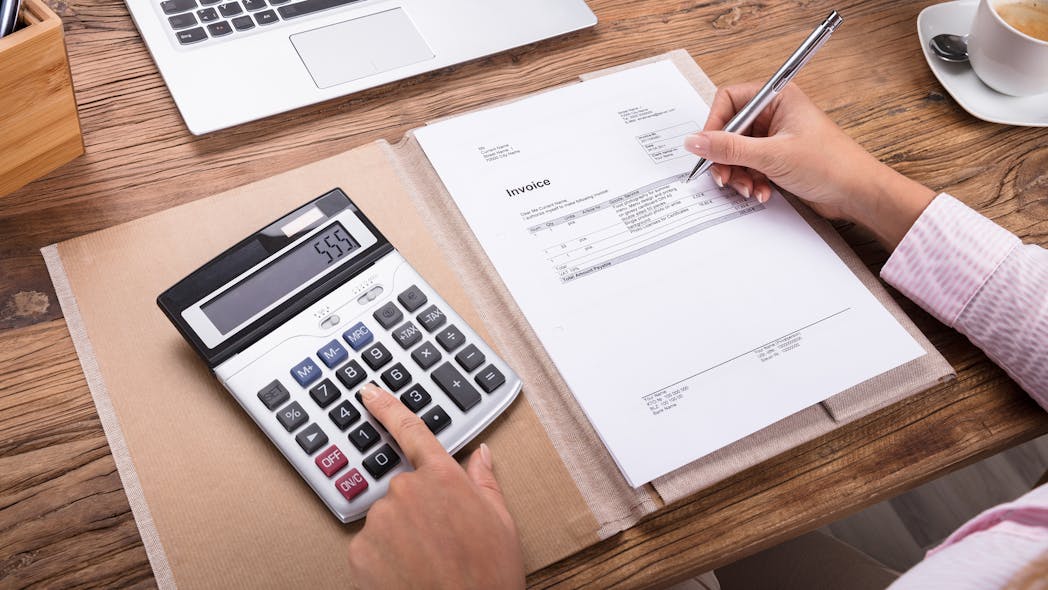 The ANNA free invoice generator
It's free and it generates invoices, so we thought we'd keep the name simple. Using it is like a typical free invoice generator – fill in some fields, personalise by adding your logo, enter your email and we'll send the professional-looking invoice straight to your inbox – leaving you to just send it to whoever needs to pay for your services. Give this one a try right here.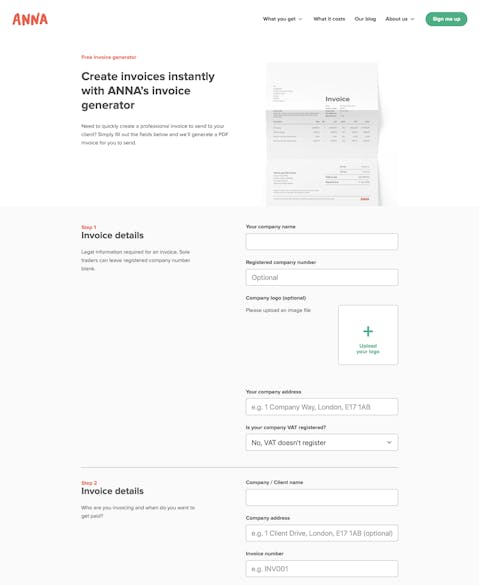 The ANNA free invoice template spreadsheet
It's not a name that rolls off the tongue, maybe call it TAFITS if you prefer. This one is strictly for the professionals, people skilled in the art of spreadsheets. It's a simple invoice template in the format of a Google spreadsheet you can make a copy of in your own Google Drive and use as much as you like. If you're a spreadsheet wizard or just running your business in the 90's, feel free to download in Excel or convert into Microsoft Money (still going, apparently). 
You will find the detailed instructions in the first tab of the spreadsheet. There's a tab for all your company information, and another tab for your invoice details (all invoices in one place). When you view your invoices, there's a simple dropdown cell where you choose which invoice you want to see. Then export the PDF and you're done! If that sounds too complicated, stick to the generator above. If it sounds great, then click here and give it a try.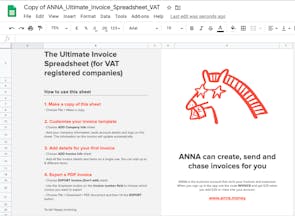 Why are we giving these away for free? 
Apart from just being nice? At ANNA we have a free pricing plan, for people who are starting out or not generating a lot of income. And invoice creation is included in that plan (it all happens in-app when you have ANNA), so it's basically free anyway. We thought by spreading a bit of love, you can see some of what ANNA is all about.
Why would I bother getting ANNA?
Pretty simple really. ANNA does it all for you. Our customers used to spend hours – evenings, weekends doing their business admin. Creating and sending invoices, chasing the money, telling off late payers. With ANNA, we manage all that for you. Including chasing those pesky people who don't pay on time.
Invoicing the same person again? ANNA remembers all the details. Issuing regular invoices every month? ANNA will set that up automatically.
And beyond invoicing, we bring everything together – Expenses & receipt tracking (even on your non-ANNA bank accounts), Tax reminders, even giving multiple debit cards for people in your business. All done.
If you like what you see so far, click on "Get Started" below and give ANNA a try today!
Get invoicing sorted with an ANNA business account
Take the load off with ANNA, the business current account that sorts your invoices and expenses.
Enter your mobile number
We create, send and chase up your invoices
Get a business account and a debit card that miaows
We snap and sort your business expenses
Never miss a deadline, with handy tax reminders