ANNA vs Tide
13 October, 2021 · 4 min read
Deciding how to choose the right business account can be daunting. There are so many features, all worded differently, which makes it confusing to compare each account and work out which is right for your business.
We're taking the hassle out of making this decision by comparing some of ANNA's features with the features offered by other accounts. Read on for our no nonsense comparison with Tide.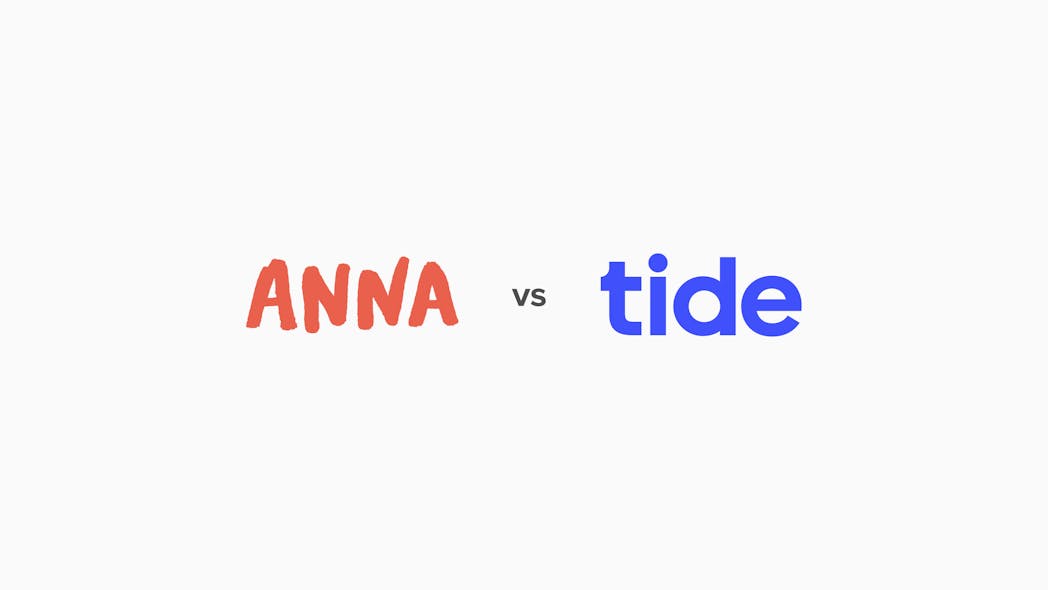 Full access and additional cards for your team
With an ANNA account, you can give your team members or other directors full access to your account. This means that when you're away on holiday, or if someone else in your team manages your accounts, you can relax knowing that they have their own unique logins and can take care of your business.
If you're looking for an easier way to manage your team's expenses, ANNA has you covered there too. You can order additional cards, set spending limits, and manage your team's expense receipts in the ANNA app.
Tide doesn't offer full access for your team members at the moment, but you can order additional expense cards for your team members.
Cash withdrawals
Cash withdrawals at ANNA and Tide only differ by pricing.
ANNA: from £0 to £1 per withdrawal, depending on your pricing plan.
Tide: £1 per withdrawal.
Cash deposits
ANNA: from 0 to 1% per transaction, depending on your pricing plan. All deposits are done via PayPoint. Check our launch blog post for details
Tide: at Post Office – £2.50 for deposits up to £500, 0.5% for deposits over £500; at PayPoint – 3%
Access for your accountant
Gone are the days of sending pages and pages of bank statements, along with a shoebox of your receipts to your accountant. With ANNA, you can invite your accountant to view your account. They can see your transactions, categories and receipts from the comfort of their own laptop, and even download all of your receipts and invoice as well as CSV reports, which makes doing your taxes a doddle. They'll thank you for it.
Tide offers read only access for your accountant, where they can view and download CSV reports.
VAT Filing
The good news is that ANNA is fully MTD compliant! This means you can file your VAT return straight from the ANNA app. Just connect your account to HMRC, and away you go. If you or your accountant prefer using spreadsheets for this, you can even use our online tool to do this instead. Simply upload your return, select the correct boxes, connect to HMRC, and get filing.
Tide doesn't currently offer VAT filing features.
International Payments
Did you know that you can send and receive international payments with ANNA, no matter how your business is set up? Whether you're a sole trader or you run a limited company, if you need to send a payment overseas to your supplier or for a service, just head over to the app, share a copy of the invoice or contract, and we'll take care of the rest.
If you receive international payments from clients, you can request international account details for your ANNA account to make receiving payments even easier. Just tap the green thunderbolt in the app, and select "Get IBAN."
International payments aren't available for a majority of Tide customers, although some customers with limited companies have a Tide International Currency account.
Cashback
All ANNA customers can earn cashback on some purchases. Just choose which category you'd like to earn cashback on, and earn on your everyday business expenses.
Cashback is only available on some plans with Tide.
Invoicing features
ANNA takes the headache out of creating, sending and chasing your invoices, so you can spend more time running your business, and less time worrying about when you'll be paid. Create invoices with your logo, send them out from the ANNA app and see when your client has received it. ANNA also politely reminds your clients when payment is due, and can automatically match your invoice to the transaction when your client pays you.
Working on long projects is easier with ANNA's recurring invoice feature. If you need to invoice a client for the same amount each month, you can create an invoice and set it to reoccur – leaving you more time to work on your project, and less time spent on your admin.  These features are included in all ANNA plans.
With Tide, you can create and send your invoices from their app. But if you'd like automatic invoice chasing and matching when you receive a payment, you'll need to pay extra each month for their Invoice Assistant feature.
To find out more about all the other features ANNA offers, you can download the app and sign up for an account in as little as 3 minutes. Once you've signed up, our 24/7 customer support team can answer any questions you have in an average of less than 1 minute – we even have a page that shows it in real time.
Open a business account in minutes
Take the load off with ANNA, the business current account that sorts your invoices and expenses.
Enter your mobile number
Get a business account and a debit card that miaows
We create, send and chase up your invoices
We snap and sort your business expenses
Never miss a deadline, with handy tax reminders