WOOF! The new ANNA ad campaign
8 September, 2023 · 5 min read
For most businesses there's no moment like the moment when they get paid; it's when business owners really start to believe. It's proof that their dreams and plans can succeed. That's why ANNA's latest advertising campaign focuses on the joy of getting paid – with a particular canine spin.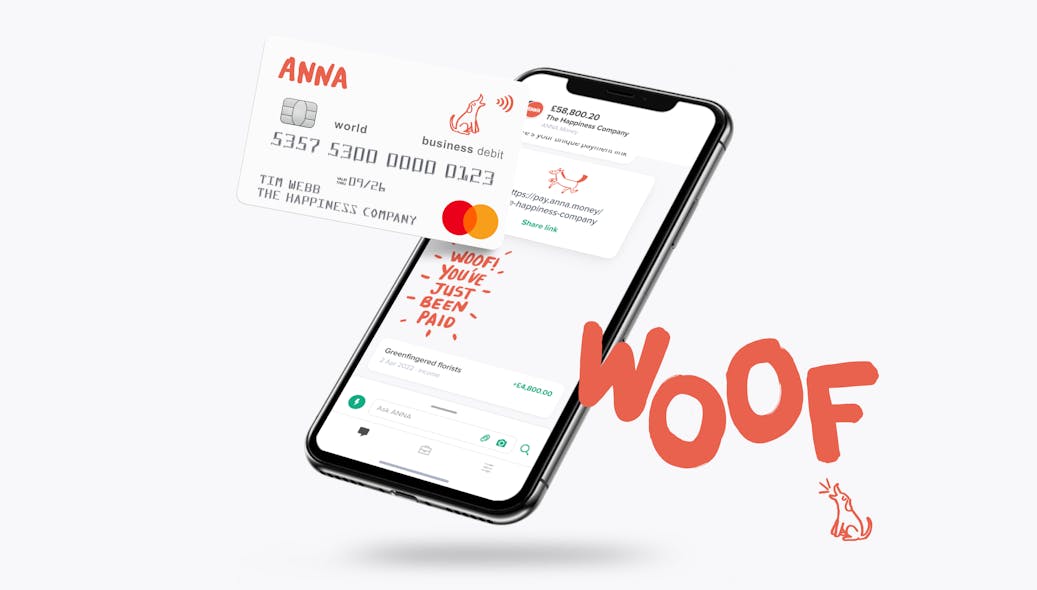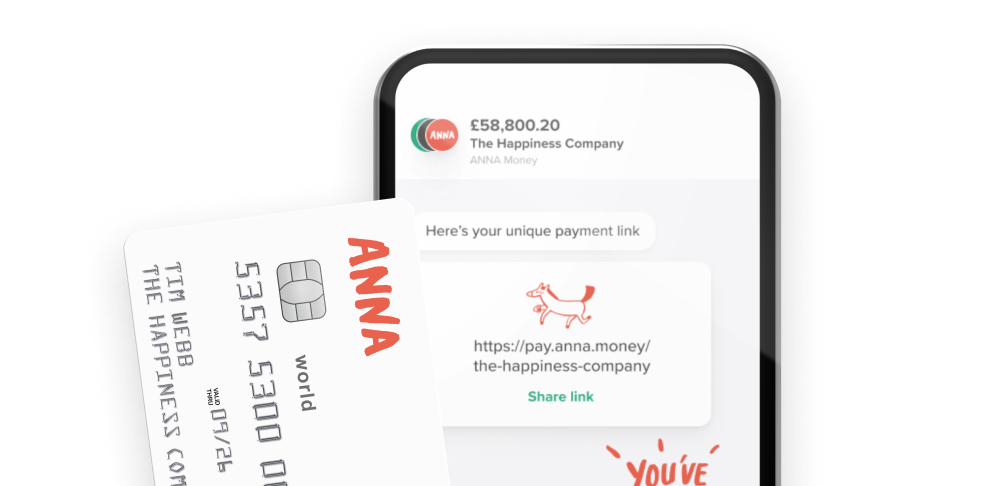 Open a business account with ANNA and get your taxes sorted
With ANNA you get a debit card, automated bookkeeping, a personal payment link, 1% cashback and 24/7 customer support
Woof
Four years ago ANNA introduced the business account with a miaowing debit card. Without wanting to blow our own trumpet, it was the kind of idea that only ANNA would come up with. We've always felt that too many fintech brands say and do the same things, and we wanted to stand out. And while we always take our customers very seriously, we're happy to poke fun at ourselves, so we ran an ad campaign about ANNA's search for the perfect miaow.
For our new campaign we wanted to revisit the miaow but take it in a new direction. We wanted to find a sound that captured the joy you feel when your business gets paid. And then we had an epiphany – if the ANNA app miaows when money leaves your account, then the opposite should happen when money gets paid in. And what is the opposite of a cat? You guessed it. A dog.
So we decided that when your business gets paid, the ANNA app would emit a glorious, joyous woofing sound. Note: there's a big difference between a bark (aggressive) and a woof (lovely). At ANNA we're definitely on #TeamWoof.
Once we had decided on the idea, we knew we wanted to make the WOOF front and centre. We will have posters on sites across London, on buses, tubes and roadside locations and all of them will really celebrate the joy of WOOF, with a big bold typographical execution.
We also needed to find a way to show the WOOF wasn't just a gimmick – it needed to show how ANNA really does provide benefits to our customers. So we went away and pondered dogs and woofs and it occurred to us that dogs really like chasing things. And what does ANNA do for its customers? Chase their invoices. So we had an angle we loved: ANNA is like a dog that chases your invoices and then woofs when you get paid.
ANNA's posters
Here is a glimpse of some of the posters you'll be seeing around London in the coming months.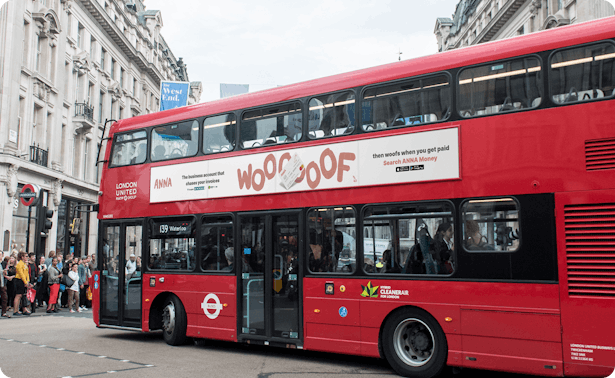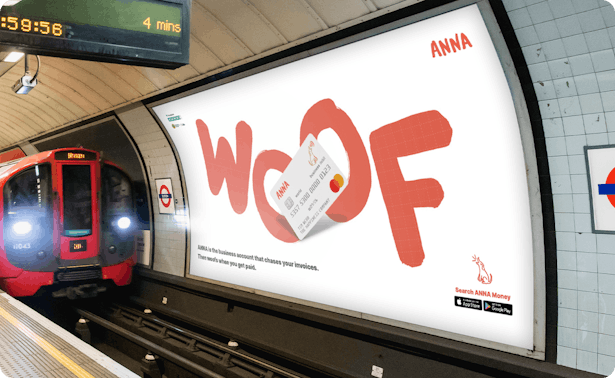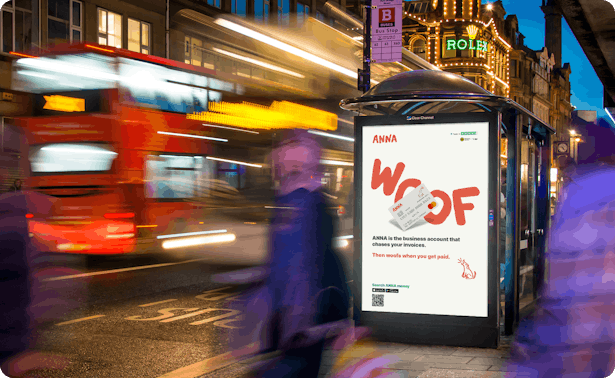 The return of Tim Webb
When we launched the Miaow campaign we created a film featuring Tim Webb, a fictional ANNA employee in charge of finding the perfect miaow. For WOOF, we thought we'd revisit Tim and show him on a new crusade to find the sound that truly encapsulated the joy you feel when your business gets paid.
We worked alongside an incredibly talented cast (including some ANNA employees taking supporting roles) to create the film. There is a longer version for die-hard fans of ANNA and/or comedy, plus a shorter version that we'll be sharing across our social channels.
We hope the films reflect the genuine passion everyone at ANNA feels about helping our customers grow their businesses. We also wanted to stay true to the ANNA brand, which means a dose of humour in place of earnestness.
Supporting small businesses
We hope that the ad campaign comes to the attention of the hundreds of thousands of small business owners around the country who need a business account. We've always been big believers that small businesses are the engine that really powers the British economy, but that small businesses don't always get the love and support they need. With ANNA, they get a business account, tools to grow their business and award-winning 24/7 customer support. And now they also get a woof when they get paid.
Open a business account in minutes
Take the load off with ANNA, the business current account that sorts your invoices and expenses.
Enter your mobile number
Get a business account and a debit card that miaows
We create, send and chase up your invoices
We snap and sort your business expenses
Never miss a deadline, with handy tax reminders