Using TikTok for your small business: interview with Ramona Gohil
16 October, 2020 · 6 min read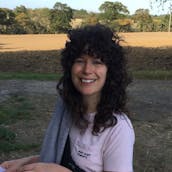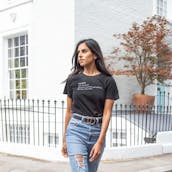 So you've set up a website, and bagged the usual social media accounts under your business' name – but have you considered what TikTok could do for your small business?
Far from just being a place for prank videos, TikTok could help you promote your business and even earn you extra income. We spoke to Ramona Gohil, founder of Rani & Co., about promoting her feelgood feminist clothing and jewellery brand on TikTok – and how the platfom can work for you.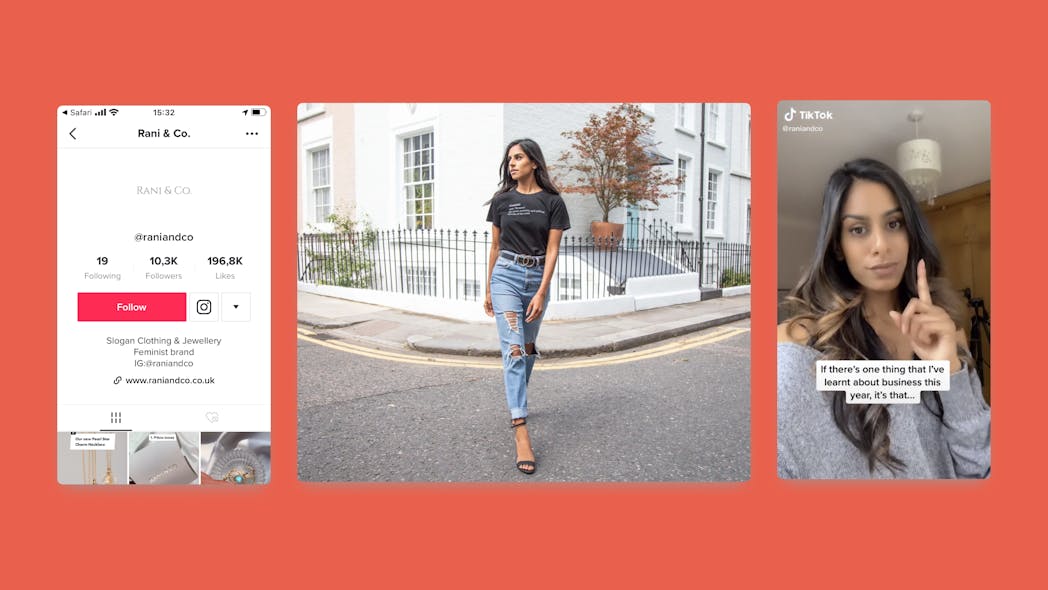 Hi there, Ramona! Tell us a bit about you and your business! 
Hello! I've been running Rani & Co. for about three years now. It's an online store selling jewellery and apparel inspired by my passion for feminism. I run Rani & Co. alongside my full time job in social media, and the one advantage of lockdown is it's become easier to balance my day job and my business. I wanted to create a brand that encourages others to feel confident, to believe in themselves, to feel inspired and to educate others about feminism. I originally studied finance, but moved into social media about five years ago as I find it much more creative – and running my own business allows me to take my creativity even further.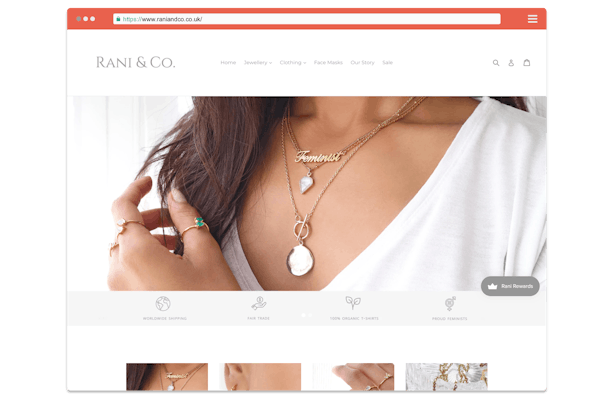 How do you promote your business?
Mainly through social media – Instagram was my biggest driver for traffic and sales, and I've recently discovered that Pinterest also has great purchasing power. I use Facebook for targeted ads, because it's easy to set them up and measure their success on the platform. Because my day job is in social media, I tend to know what kind of content engages with the audience I'm trying to reach, which has really helped my own business. I'm still relatively new to TikTok, but I've found it surprisingly good for promoting my business so far – and I've grown my Instagram followers from my TikTok account, too.
When did you first start using TikTok? What attracted you to the app?
An influencer friend told me to get on TikTok at the beginning of lockdown, so I opened an account but I didn't do much with it for the first month. During lockdown I noticed TikTok becoming more popular, and friends of mine were growing huge followings in very little time. The more popular a platform, the harder it is to grow a following – which is why I wanted to start using TikTok early on, to be in with a better chance of increasing my audience. The great thing about the app is that you get to see products and services in action, and it feels a lot more personable than Instagram. 
I started off by making a few videos, and studying the content that other small businesses were putting out. As I was experimenting with content I put out a video showing how we package our jewellery, and it was an instant success. It had about 44,000 views overnight and I gained around 500 followers – it tripled the traffic to my website! That's when I started making more small business-focused content and behind-the-scenes videos to appeal to my new audience. What's great about TikTok is that it can really help small businesses – I've even discovered up-and-coming brands myself whilst I've been creating TikTok content. 
How do you get ideas for your videos – and then produce them?
I keep my videos quite simple, because I'm the only person running my business so I don't have lots of time to create big set ups. I think it's important to provide value in your videos, instead of just focusing on product, so I create a lot of content that's about helping small business owners, like marketing tips and behind-the-scenes videos. I'd definitely advise studying the content on TikTok for a bit before you begin, that's where I realised that business tips videos were popular, and that the format of adding text that you can point to on screen really works for TikTok audiences. 
Product vids don't tend to get as much engagement, but it's all about experimenting with your content. I've found that my photography tips videos were really popular, which is great because they also allowed me to sell my products as well as teach some techniques. If I don't have as much time to create new content, I'll just do something small like showing my hands trying on rings or demonstrating my packaging process. That's quite a good tip if you're shy, actually! But people engage more with faces, don't forget.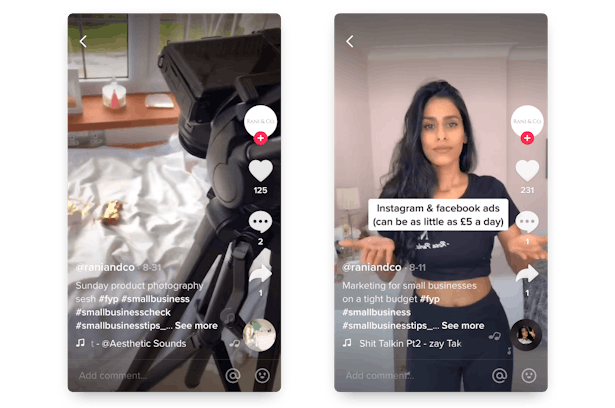 Could you talk a bit about how to make money on TikTok? How many followers do you need?
I've been accepted onto TikTok's creators fund – which you need 10k followers to be eligible for. Thanks to the fund, I can now make money from videos that get a certain number of views, which I'll then use to invest back in my Facebook ad spend. The disadvantage to any new platform is that it's not easy to track at first, I can't track my sales from TikTok using Google Analytics yet – but I have seen my website traffic increase, and I can target that audience with Facebook ads. 
I haven't tried any TikTok ads yet because they're so expensive; they're geared for much larger businesses. I can get a rough idea of my TikTok-driven customers by following people who have commented on my posts or tagged Rani & Co. in Instagram posts. That's why it's important to link your social media accounts together! 
Is it worth investing time in TikTok to promote your small business?
100% yes – because it's a newer platform it's so much easier to grow your following, and no one knows where it's going to lead yet. You just need one video to blow up, and then you can cross post it on Instagram and start building an audience. Study the content so you know what works before you begin, and then just go for it and put yourself out there!
Any hints or tips for getting the most out of your TikTok account? 
With any social media platform, it's important to provide value to your audience – it's not all about you personally. I don't like copying, but use others' content to inspire what you do. People can be scared of giving away their most valuable advice, but there's nothing to worry about! It all helps other small businesses. Remember that each social media platform has a very different purpose: Instagram is more product-focused and TikTok is currently more content-focused, so lean into it and create videos that share your best insights into running a small business. 
Can you recommend any TikTok accounts for small business owners and people interested in looking after their money? 
Absolutely, there are a few accounts that I really like, and that are creating valuable content for small businesses. Sandy's Small Business Tips is great, she blew up so fast and gained 10k followers in just a few weeks. I follow Miss Jo Morrison, she runs a fashion brand in the US and she's also a fantastic business coach. I also really like Livin Leann for her beautiful jewellery brand and content. It's great to see so many female entrepreneurs succeeding on the platform!
Open a business account in minutes
Take the load off with ANNA, the business current account that sorts your invoices and expenses.
Enter your mobile number
Get a business account and a debit card that miaows
We create, send and chase up your invoices
We snap and sort your business expenses
Never miss a deadline, with handy tax reminders