Restarting your ANNA account
29 June, 2020 · 3 min read
Update 2 July 11:30 AM: since last night, all systems are back to normal. Full status update is at the bottom of this post.
We're pleased to report that the FCA has given written consent for Wirecard UK to resume regulated activity. The restriction on activities was lifted at 00.01 on 30 June 2020.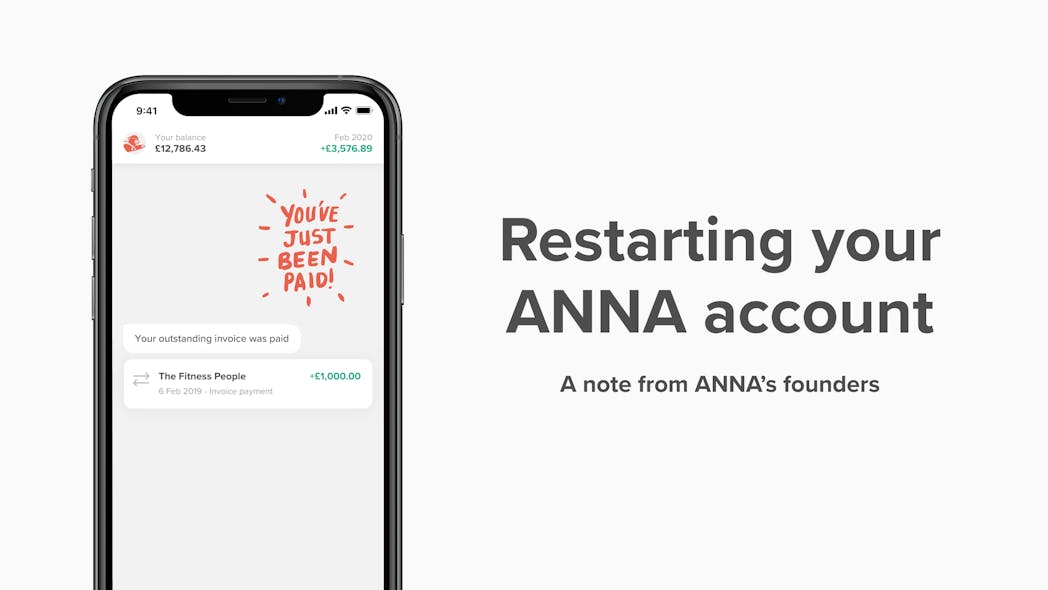 Few precautions first
This is great news. However, we have to take some precautions when we reopen accounts as returning to a full volume of operations (i.e. creating a big batch of payments at once) will cause a technical freeze on Wirecard's side, and they will then have to review each operation manually – which might take them days to complete and add further delays to you accessing to your money. 
In the first few days, while the Wirecard UK is getting back to normal we would urge anyone who can afford to not to make any payments. This will help avoid overloading the system. We know some of our clients have all their money with ANNA and cannot afford this approach – please reach out to us in the app so we can help with your case one-to-one.
How your ANNA account will become active
How your ANNA account will become active in the next 24 hours:
Card transactions – within the usual tier limits.
Incoming payments – within regular tier limits.
Outgoing payments – a maximum of £10,000 within the first 24 hours; we plan this restriction will be lifted later today and outgoing payments will be available within your regular tier limits again.
Please bear in mind that due to potential high demand it may take longer to deliver payments. 
All this does not mean we're returning to business as normal and relying on one payment and card-issuing provider to run our operations. Please expect further updates from us on both the Wirecard restart and future development of our payment infrastructure to make it more crisis-proof.
Current status (last updated 2 July, 11:30 AM)
Cards are fully operational.
Direct debits and standing orders are fully operational. Please note, it takes 3 days for a direct debit to be processed. If you had direct debits due July 1st or 2nd, they were initiated on Monday and Tuesday respectively – which means they already didn't go through. Please check with the merchant who was supposed to get direct debits from you if they could try initiating the direct debit again.
Bank payment systems are fully operational. All the temporary restrictions we had to impose on Tuesday are now lifted – you can send and receive money as usual within the limits of your account tier. However, some issues might have come up with payments initiated during downtime.
If your BACS payment was due on Wednesday, July 1, it means it was initiated on Monday and the sender might have had issues submitting the payment. Please contact the sender and ask them to resend.
All incoming Faster Payments that reached ANNA accounts were credited. If you haven't received yours it means it was rejected – please ask the sender to check with their bank if they see it as delivered and check if they have received the return. If the payment is still not found, please contact us in chat – we'll need to check all the details, but we'll definitely find it.
Account balance in the app and transaction history are displaying correctly. If you're missing a payment you sent or received before, please let us know in the app chat.
Once again, we would like to apologise for the stress these last 5 days have caused. You can expect a more detailed update from us later this week – we'll reflect upon the situation and announce our further plans on making the ANNA infrastructure more stable.
Open a business account in minutes
Take the load off with ANNA, the business current account that sorts your invoices and expenses.
Enter your mobile number
Get a business account and a debit card that miaows
We create, send and chase up your invoices
We snap and sort your business expenses
Never miss a deadline, with handy tax reminders